Pak Bid To Acquire Dilip Kumar's House Runs Into Trouble
Islamabad, Apr 10: A move by Pakistani authorities to acquire iconic Indian actor Dilip Kumar's ancestral home in Peshawar for a sizeable sum of money has triggered a row involving several persons who have laid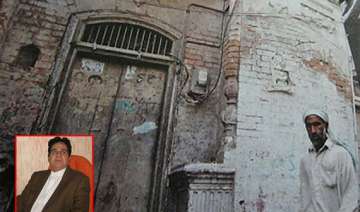 PTI
April 10, 2012 20:06 IST
Islamabad, Apr 10:
A move by Pakistani authorities to acquire iconic Indian actor Dilip Kumar's ancestral home in Peshawar for a sizeable sum of money has triggered a row involving several persons who have laid claim to the property.
The government of Khyber-Pakhtunkhwa province recently announced plans to acquire the house in Mohallah Khudadad area of the historical Qissa Khawni Bazar so that it can be preserved as a national heritage site.
Ikramullah, who currently occupies the house, told a news conference in Peshawar yesterday that he alone has the rights to the property. He rejected claims of ownership by several persons, saying they were looking for an easy way of getting cheap publicity.
He further said Dilip Kumar's father Ghulam Sarwar bought the house when its previous owner, Gul Jee, put it up for sale in 1943. Sarwar subsequently sold the house to Yaqoob Qureshi in 1944.
Qureshi died in 1981 and his son Muhammad Badshah put up the house for sale in 2005.At that time, Haji Lal Muhammad, a partner of Ikramullah, purchased the property for Rs 5.5 million.
Ikramullah said after Badshah received the money, he delayed the registration of the house in Haji Lal's name.
He said he then approached a civil court to get possession and the certificate of ownership of the house. He argued that Dilip Kumar or his relatives had no right to the property because Sarwar had sold it over six decades ago.