'Party with Bhoothnath' song review: Honey Singh's worst attempt so far (watch video)
The much anticipated song starring pop singer Yo Yo Honey Singh and megastar Amitabh Bachchan from 'Bhoothnath Returns' is out. The song, 'Party with Bhoothnath,' shows the singer-rapper in his usual peppy avatar with a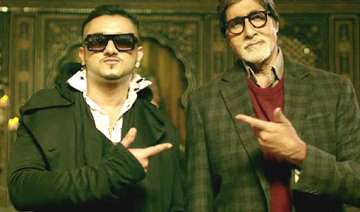 India TV Entertainment Desk
March 24, 2014 7:08 IST
The much anticipated song starring pop singer Yo Yo Honey Singh and megastar Amitabh Bachchan from 'Bhoothnath Returns' is out.
The song, 'Party with Bhoothnath,' shows the singer-rapper in his usual peppy avatar with a bit of free style dancing, but the grandeur of Mr. Bachchan seems to be missing.
The song has been set in the backdrop of a masquerade party, quite confusingly with a few eerie elements like cobwebs, skeletons and dungeon etc.
While Honey Singh can be seen in his usual self trying to indulge his audience through those foot tapping lyrics of his rap, the music and the cinematography falls flat on the screen. Amitabh Bachchan who is playing a ghost in the movie, seem to be trying too hard to conceive the limelight in the song but all in vain, the actor looks missing in the party crowd shown in the song.
The continuous background music, which is evidently supposed to be scary irks you at one point and you prefer listening to the sound of a bell than getting annoyed by that constant unpleasant background.  While the song has a potential to get listed in the chartbusters' list, we would say that it's the worst offering of Honey Singh so far.
The rap in the song still engages you a bit but it seems to be too long to handle. Draped in a Dracula outfit, Honey Singh neither appears scary nor funny!
While the song has got everything from spunky lyrics, rap, spooky elements to combo of Amitabh Bachchan and Honey Singh; we would say it's too much of everything that appears cluttered and busy.
Take a look at the song and decide yourself!     
Kids might enjoy it, not because of the music but due to those spooky-funny elements shown in the song.