Aamir's PK in trouble, Delhi High Court issues notice to the makers
New Delhi: Aamir's 'PK' seems to be controversy's favourite child as after the pan India protest against the film for hurting religious sentiments, now a novelist Kapil Isapuri has approached the Delhi High Court, accusing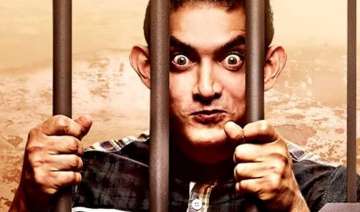 India TV Entertainment Desk
January 21, 2015 12:17 IST
New Delhi: Aamir's 'PK' seems to be controversy's favourite child as after the pan India protest against the film for hurting religious sentiments, now a novelist Kapil Isapuri has approached the Delhi High Court, accusing the makers of plagiarism.
As a result, Delhi High Court has issued a notice to the 'PK' producers. The notice has been issued to Rajkumar Hirani and his company including Vidhu Vinod Chopra and Abijaat Joshi.
Kapil is the writer of novel 'Farishta' and claiming that 'PK' story is stolen from his novel.
He said that certain portions from his Hindi novel 'Farishta' published in 2013 were "stolen and copied" and used in the film. Isapuri has sought punitive damages of Rs 1 crore from the filmmakers along with credit for his work. The Rajkumar Hirani directorial, which raises questions about religion and people's blind faith in godmen, has been co-produced by Vidhu Vinod Chopra and Hirani.
The movie also stars Anushka Sharma and Sanjay Dutt. The plea, filed through advocate Jyotika Kalra, alleged that the makers of the film as well as scriptwriter Abhijat Joshi stole the characters, expression of ideas and sequences from the novel 'Farishta'.