Aamir Khan starrer 'PK' set to be screened at 3,500 theatres in China
New Delhi: Aamir Khan starrer PK is set to be shown at 3,500 screens in China, following a deal between Disney India and Chinese state-owned distributors.A statement said the film will be released by China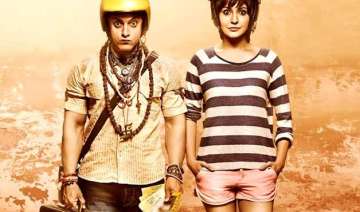 India TV Entertainment Desk
January 31, 2015 8:50 IST
New Delhi: Aamir Khan starrer PK is set to be shown at 3,500 screens in China, following a deal between Disney India and Chinese state-owned distributors.
A statement said the film will be released by China Film Group and Huaxia Film Group, with a promised 3,500 screens, at an unspecified release date.
An agreement for the release of the Chinese version was made at a function in which Indian Ambassador to China Ashok K Kantha and top Chinese film officials were present. The agreement was signed amid expectations that Beijing may permit more Indian films, considering the improved relations, especially on the cultural front, between the two countries.

Also read: A flashback of Rs 300 cr blockbuster PK's records
At present, only 34 foreign films are allowed to be released in China every year with most of them grabbed by top Hollywood films.
According to director Rajkumar Hirani, the movie will be a great success in Communist China as its controversial religious theme can resonate well with the audience here.
Hirani, who was in Beijing to ensure that all legal formalities are completed, told Indian media that the officials and members of Chinese film industry approached the producers of 'PK' to get it released here.
The film reunites key members of the '3 Idiots' team including director Rajkumar Hirani, producer Vidhu Vinod Chopra and star Aamir Khan. According to Vidhu Vinod Chopra, "The film's blend of entertainment, emotion and underlying social message will resonate with audiences in China and elsewhere in the world."
The Chinese patrons of the film expect PK like the 'Three Idiots' too could become a major success in China as more and more Chinese people disenchanted by materialistic life are increasingly leaning towards a new genre of godmen and monks who are emerging all over the country.
Surprisingly, Aamir is the most well known Indian film star in China in recent years as his '3 Idiots' was a massive success. Hirani said he was surprised that the controversy around 'PK' came later than he expected.
"People are intelligent enough to see. The protests seemed too big because of media and took place in few theatres", he said adding that it was not as big as it was projected.
(With agency inputs)