Priyanka Chopra's latest statement reflects her excitement about Oscars
New Delhi: Bollywood actress Priyanka Chopra is a happy camper these days, after all, the girl is ruling both Hollywood and Bollywood.The diva is considered as one of the leading actress in the B-town, and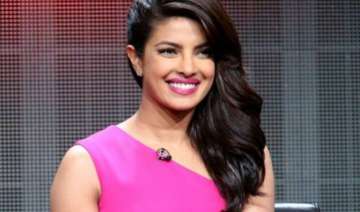 India TV Entertainment Desk
February 03, 2016 23:42 IST
New Delhi: Bollywood actress Priyanka Chopra is a happy camper these days, after all, the girl is ruling both Hollywood and Bollywood.
The diva is considered as one of the leading actress in the B-town, and has now made her debut in the West as well with American series 'Quantico'.
And now an even bigger achievement comes her way as she is all set to present at the Oscars 2016.
Indeed, Priyanka is on seventh heaven for being a part of such a big event and is quite excited about the big day.
"I am definitely excited. There are such few presenters and to be able to share the same stage with them within six months of my being here, feels amazing. It's great to be counted among my peers," Priyanka told a leading daily.
She further added, "From the red carpet to who will finally hold that golden statue…. It's the Oscars and it promises to be a very interesting evening. I can't wait to open that envelope and say those words… "And the Oscar Goes to…."!!!   With the whole world looking forward to what will unfold that night, I'm delighted to be a part of the tradition".
Priyanka Chopra recently won the People's choice award for Best actress for 'Qurantico' and now the actress will make her debut in Hollywood movie 'Baywatch' where she'll be seen in a negative role.