Creative fraternity expresses solidarity with Tamil writer Murugan
Kochi: Eminent writers, film makers, musicians and political activists Saturday came together under the Kochi-Muziris Biennale 2014 umbrella to express their solidarity for Tamil writer Perumal Murugan through a mass reading of a portion of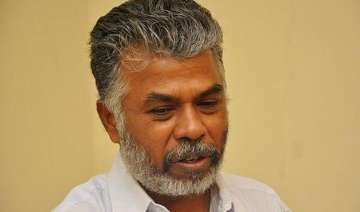 India TV News Desk
January 18, 2015 14:08 IST
Kochi: Eminent writers, film makers, musicians and political activists Saturday came together under the Kochi-Muziris Biennale 2014 umbrella to express their solidarity for Tamil writer Perumal Murugan through a mass reading of a portion of his withdrawn book "Madhorubhagan".
Gathered at the Aspinwall Pavilion, they lauded the biennale foundation for creating "a space for artists to voice protest".
In a programme that reflected the creative nature of its speakers with wry humour, song and dismay, the participants emphasised the need to voice protest against the suppression of free expression, where the Namakkal-based Murugan felt cornered by protests and threats to declare that the writer in him was "dead" and urged his publishers to withdraw his books from stores.
It comes down to a question of our survival, said writer N.S. Madhavan, who led the reading.
"There is too much of a silence against the issue by the two big political parties in Tamil Nadu. Creative people feel obliged to exile themselves and in situations such as this, we should stand together to prevent this," he said.
Communist Party of India-Marxist leader and writer Simon Britto agreed that the state government was bending to the pressure of the powerful Thevar community, who feel that a woman of the community was badly depicted.
"In today's world, and in a sovereign, socialist, secular India, a writer has his neck on the line and his assassin is waiting at the tip of his pen," said Britto, a former nominated legislator.
Other speakers, including filmmaker Kamal, award-winning music director Bijibal, scriptwriter Shibu Chakravarthy, activist T.N. Joy and radical movement artist K. Raghunathan also voiced their protest.
Composer-singer Shahabaz Aman turned the mirror inwards.
"Writer Madhavikutty felt stifled in spite of the presence of eminent creative people such as us. On the other hand, youngsters pick up the smallest issue on social media today and the authorities feel obliged to take it up in some way. This reading is a protest against ourselves and a tribute to Madhavikutty," said the flamboyant singer, who lent his voice to the KMB '14 signature film.
The speakers and the audience then read aloud from the novel's English translation "One Part Woman".
KMB '14 director of programmes Riyas Komu said that they take energy from the presence of political, social and creative voices and the engagement they bring to Kochi.
"We will always try to protect the autonomy of the artiste," said Komu.