Pulkit Is Happy About Bittoo Boss
Mumbi, April 15: Newcomer Pulkit Samrat  is gung-ho about his role in Bittoo Boss.He plays a videographer in his debut ,and he specialises in shooting wedding videos in the film.His face lights up when he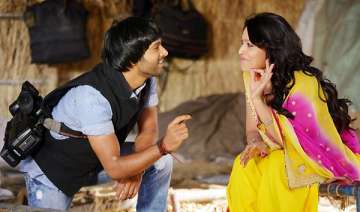 PTI
April 15, 2012 15:42 IST
Mumbi, April 15:
Newcomer Pulkit Samrat  is gung-ho about his role in Bittoo Boss.
He plays a videographer in his debut ,and he specialises in shooting wedding videos in the film.
His face lights up when he sees a huge hoarding of his film at Mahim Causeway in Mumbai, says a media report.
"I have been waiting for this moment,to see my own face on the banners.I always wondered what it felt like, he gushes."
"I am nowhere close to my character,Bittoo. As I am an introvert, I speak little, so it was tough portraying Bittoo", says Pulkit, and adds,  "He is shown as a local superstar. His work is so good that people postpone their children's wedding if he is not available, but his ego takes a beating when Amita's character shows him his actual status in society."
Says Amita, "I play an educated,modern and practical girl. I show him the mirror.
"He may be an introvert, but Pulkit knows how to pull pranks.
"During the shoot, Pulkit installed small speakers and fans behind the curtains in Amita's room in her absence.
"He then fixed a camera trolley with a baby light on it, and at around 3am, he switched on the speaker to the sound of blowing wind and whispers."
"I kept the fans switching on and off and then moved the trolley. For the first few minutes, Amita felt that it was my doing,but later on,she got really scared," laughs Pulkit.
Raghav Sachar's music has also found an audience in Salman Khan, who, while launching its album, had remarked,  "Mere upar bhi iss type ke gaane bade suit karte hain!"
 It is a family entertainer.The youth and the masses will love the film, says producer Kumar Mangat