Radhika Apte's nude video scandal: Confusion over the actress being sad or happy
Radhika Apte claims she has not given statements over nude video leaked rowNew Delhi: Radhika Apte has fallen much to the foreground of her bravery by giving a no-reaction-like-reaction over her nude video leak.The actress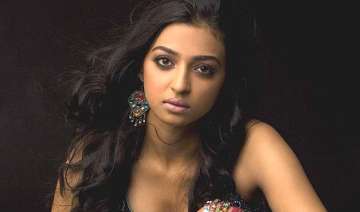 India TV News Desk
April 30, 2015 18:13 IST
Radhika Apte claims she has not given statements over nude video leaked row
New Delhi: Radhika Apte has fallen much to the foreground of her bravery by giving a no-reaction-like-reaction over her nude video leak.
The actress whose partially nude video is surfacing the rounds all over the internet opened up on the issue. Radhika has stated that such incidents hold no value either to her or to her family.
In her official statement to an entertainment portal, Radhika mentioned that she laughed off the video and deemed it the doing of people who have no jobs. "I saw it and laughed it off because it is really funny... I am really busy. I can't waste my time doing that. My family and I never get affected by any of these things. So it just doesn't bother me," said the Badlapur star.
While expressing his rage, even director Anurag Kashyap mentioned that he thinks Radhika as a real brave actress. Confessing the 14 sec leaked clip as the one part of his 20 min short film, Anurag further said that utmost security was assured during the shoot of the scene and post production too.
According to the portal, Radhika also claimed that she can't waste her time on going and making a complaint or even looking at it.
However, later, the actress took it to her twitter account to say that she has given no statements or reaction over the entire stint. Radhika denied any such reports and clarified that no response has been generated on her part.
"Just to clarify I have not reacted or given any statement to any news outlet." - reads her twitter post.
With such contradictory reaction by the actress, we are wondering why Anurag earlier claimed that Radhika Apte is feeling victimized due to the entire hoopla!
Well, with her bold act both on and off the screen, there's no point denying that Radhika is one courageous a lady.  Yeah?