Rajinikanth's Daughter Upset With Kolaveri Dhanush's Closeness To Shruti
Chennai, Apr 4: Kolaveri Di singer Dhanush's marriage appears to be in trouble, says a media report. The film 3, which boasts of the viral craze Kolaveri Di, was being eagerly awaited not only for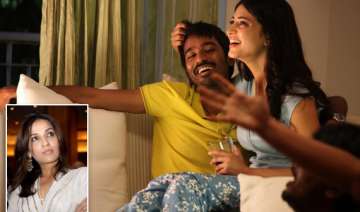 PTI
April 04, 2012 16:51 IST
Chennai, Apr 4:
Kolaveri Di singer Dhanush's marriage appears to be in trouble, says a media report. The film 3, which boasts of the viral craze Kolaveri Di, was being eagerly awaited not only for the song but also because it marked the directorial debut of Tamil superstar Rajinikanth's elder daughter Aishwaryaa.
With hanush and Shruti Haasan as the romantic leads, expectations were high but the film opened to mixed reviews.
The report said, the buzz is that Dhanush and Shruti's mindblowing onscreen chemistry is a result of their reported closeness off-screen.This proximity has supposedly caused a rift in Dhanush's marriage to Aishwaryaa.
Apparently, it was the promotions of the film that strained their relationship. Dhanush,Shruti and Anirudh (the film's music director ) were on a radio show happily chatting away.
The minute Aishwaryaa joined them, Dhanush feigned a headache and walked off the show. At the premiere too, it looked like all was indeed not well with the couple. According to people present, Dhanush came in first followed by Shruti, with whom he had spent a considerable time alone.
When Aishwaryaa came in and the team stood for pictures, the two ladies made it a point to look in opposite directions. Dhanush, however, refutes the rumours, saying, "I'm really upset with rumours that are instigating that there is more to my relationship with Shruti.
"She is my co-star and we shared a fantastic on-screen chemistry. When two people do an intense love story like Shruti and I did, there are bound to be rumours."
"I can tell you we are just professionals and we were doing our jobs well."
"Now that the film is over, hopefully all the gossip will die down as well."
"I do not want to speak of my relationship with Aishwaryaa.It is too personal."
Meanwhile, Rajinikanth,who returned home early Monday morning, is also reportedly upset with the domestic situation.