Preity a strong woman, says Ranbir Kapoor (see pics)
While many from Bollywood are keeping their lips tight over Preity Zinta molestion case, actor Ranbir Kapoor spoke out over the matter during Hero Motocorp launch event.The actor was in Mumbai promoting the newly unveiled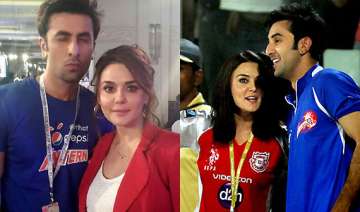 India TV Entertainment Desk
June 24, 2014 12:27 IST
While many from Bollywood are keeping their lips tight over Preity Zinta molestion case, actor Ranbir Kapoor spoke out over the matter during Hero Motocorp launch event.
The actor was in Mumbai promoting the newly unveiled scooty by Hero Motocorp.
Ranbir had a witty chat with reporters present as he revealed much about his decision to relocate citing re-development work going on his current pad.
While the actor in his usual self spilled some beans, he took no moment to let the snooping dogs out of his yard when it came about his personal life.
The usually shy actor strongly spoke about the recent Preity Zinta molestation case, which created a buzz in the entire Bollywood as well as corporate world.
Ranbir Kapoor was asked by reporters to share his thoughts on the Preity-Ness ugly spat. The actor wasted no second to smash the ball hard from his court-side he said, "I know both Preity and Ness. Preity is an extremely strong and fierce but I do not have the idea of what exactly happened and cannot comment on the situation."
He added saying, "But if a man dares to touch a woman in a manner, which she is not pleased with then punishment is inevitable. I wish that this matter gets resolved soon and the decision is fair.
Bollywood actress, Preity Zinta filed a F.I.R against her former-boyfriend Ness Wadia; alleging him to abuse and molest her in Wankhede stadium in full view of public.
The actress alleges that Ness grabbed her hand, pulled her, abused her and threatened to wipe her off her stance through his big political connections.
Police have begun the investigations and Preity has arrived in the country to record her statement.