5 things Ranveer did for Deepika to prove he is madly in love with her
New Delhi: This time isn't the best one for Bollywood's couples. Many of our favourite pairs have called it quits lately, Ranbir Kapoor- Katrina Kaif, Virat Kohli – Anushka Sharma, Farhan Akhtar- Adhuna, to name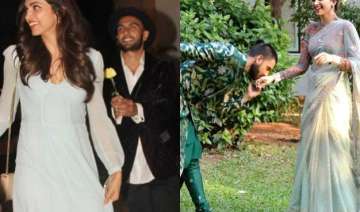 India TV Entertainment Desk
February 11, 2016 10:03 IST
New Delhi: This time isn't the best one for Bollywood's couples. Many of our favourite pairs have called it quits lately, Ranbir Kapoor- Katrina Kaif, Virat Kohli – Anushka Sharma, Farhan Akhtar- Adhuna, to name a few.
Amidst all these breaking relationships, there is one couple that is restoring our faith in love - Ranveer Singh and Deepika Padukone.
The Bajirao and Mastani of Bollywood have set an example for everyone. While Deepika is seen a little guarded about their affair, Ranveer keeps doing mushy things which are totally adorable.
Before Valentines Day, we bring to you a list of 5 things which Ranveer has done for Deepika lately that prove his love for her keeps growing each day.
When he wished her 'All The Best':
Ranveer Singh's lady love Deepika Padukone is in Toronto to shoot for her Hollywood debut, 'xXx: The Return of Xander Cage' with Vin Diesel. Before she starts shooting for her big Hollywood project, Ranveer ensured he sent her heartfelt wishes in the most unique way. He tweeted a photo of a taxi which had, 'XXX' written in the back with a message for Deepika.
Check out his tweet here: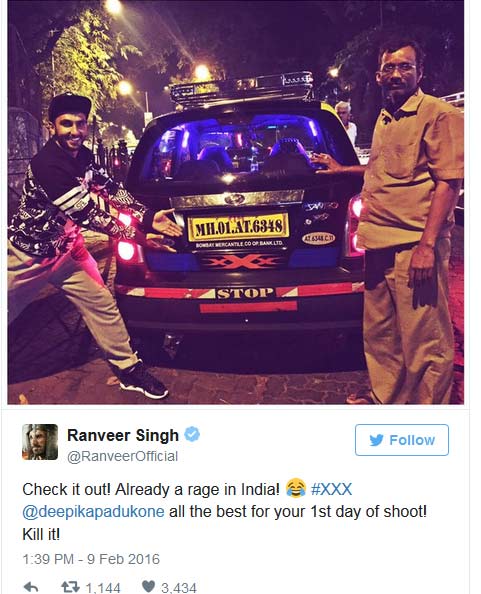 When he received 'Woman of the Year' award on her behalf:
Recently, Deepika was given 'Woman of the Year' award and Ranveer accepted it on her behalf. He started the thank you speech in a female voice, sending laughs in the audience and then went on to appreciate her. He said, "I am really really proud of her. She is a lovely girl. She is so humble in spite of her staggering success."
When he touched Deepika's parents feet at Filmfare:
Ranveer Singh has accepted that he did not take his relationships seriously before he met Deepika. A testimony of his commitment towards her was when he won the Filmfare award for Best actor for his outstanding performance in 'Bajirao Mastani' and he touched the feet of Deepika's parenrts, in front of the entire audience.
When he let Deepika chop off his moustache: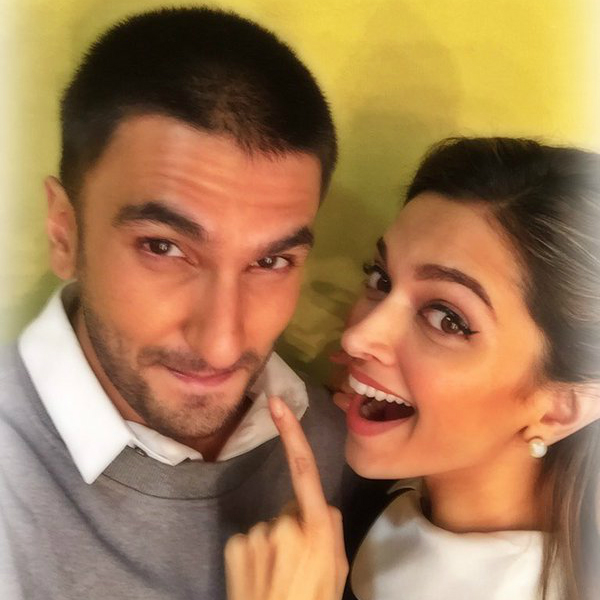 Ranveer can be credited for bringing back the trend of moustache in Bollywood. He was seen donning it for more than a year during the filming of 'Bajirao Mastani'. On the day the movie released, he let Deepika chop it all off to see the twinkle in her eyes and a smile on her lips.
When he protected Deepika from a mob: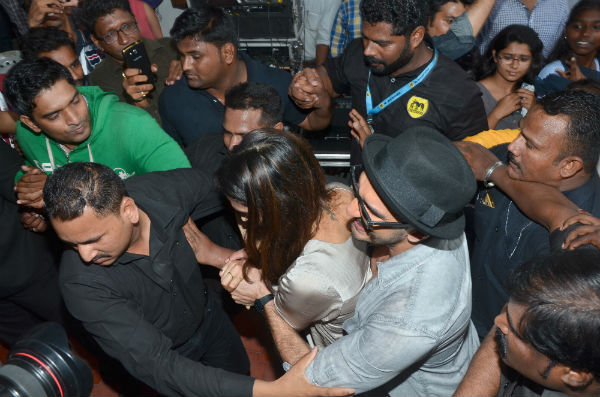 Ranveer is not just the boyfriend who can't stop talking about his girlfriend, but is also one who saves her from trouble. After the trailer launch of 'Bajirao Mastani', Deepika was surrounded by her fans. Ranveer then came to her rescue and escorted her safely to her car.