Dil Dhadakne Do: Stylish Ranveer Singh back in his 'Band Baaja Baaraat' avatar
Ranveer Singh first look from Zoya Akhtar's 'Dil Dhadakne Do' outNew Delhi: Ranveer Singh's hip and happening persona distinguishes him from his contemporaries. Full of life and vibrantly hued - Ranveer Singh perfectly portrays traits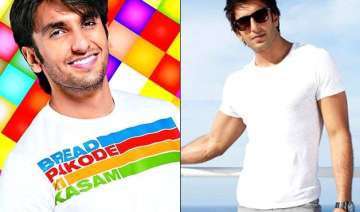 India TV News Desk
April 07, 2015 14:30 IST
Ranveer Singh first look from Zoya Akhtar's 'Dil Dhadakne Do' out
New Delhi: Ranveer Singh's hip and happening persona distinguishes him from his contemporaries. Full of life and vibrantly hued - Ranveer Singh perfectly portrays traits that salvage him from being a quintessential Bollywood actor.
While the actor himself says that 'celebrities are no more 'celebrities' now,' something similar seems to be reflecting in his latest look from 'Dil Dhadakne Do.' The robust and rusty looks in his earlier films are appearing to be pacified with this causal one in the film.
Wearing a basic white t-shirt and a pair of blue jeans, Ranveer seems to be spilling the charm of his initial 'Band Baaja Baaraat' look again.
The similar unkempt hair and those shades - everything aptly comprising the ever-so-stylish look of Ranveer in the film, that also stars Farhan Akhtar and Priyanka Chopra. 'Dil Dhadakne Do' is a family drama that narrates the story of an inept family rolling out on a vacation on cruise.
Making the level of fun steeping deep into entertainment, this Zoya Akhtar's directorial also have performances by starlets Anushka Sharma and Anil Kapoor. Boman Irani and Shefali Shah too lend their vivacious presence in the film.
Well, all we can say is we are totally in awe of the film and are waiting for the trailer to be out on April 15!