Raveena Tandon's two, Anushka Sharma's three songs edited out of Bombay Velvet
New Delhi: Five songs from Anurag Kashyap's 'Bombay Velvet' have been edited out as they made the film extremely lengthy. Out of those five songs, two were filmed on Raveena Tandon and three on Anushka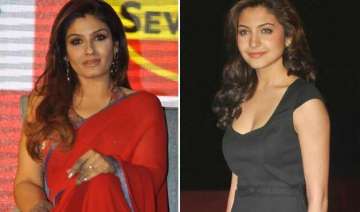 India TV Entertainment Desk
April 08, 2015 0:01 IST
New Delhi: Five songs from Anurag Kashyap's 'Bombay Velvet' have been edited out as they made the film extremely lengthy. Out of those five songs, two were filmed on Raveena Tandon and three on Anushka Sharma.
DNA reported that Raveena had shot for a song that introduced the film's characters as the opening credits rolled. Her second song that featured in middle of the film has also faced editor's scissors.   
Other three edited songs were filmed on film's lead actress Anushka Sharma.
The editor of 'Bombay Velvet' Thelma Schoonmaker thought the film was too long and the songs were unnecessary so to make the three hour film shorter, she edited out five songs. Thelma is an Academy Award winner film editor who has edited most of Martin Scorcese's film.
According to the sources, the credit will still be given to Raveena and film will open with a big thanks to her.