Role Reversal In 'Paa' An Opportunity Of A Lifetime: Abhishek
Bollywood star son Abhishek Bachchan, who plays father to real life dad Amitabh Bachchan in R Balakrishnan's upcoming movie 'Paa' feels that it is a lifetime oppurtunity for him.  "This is a role of a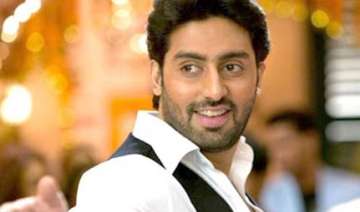 PTI
November 17, 2009 16:27 IST
Bollywood star son Abhishek Bachchan, who plays father to real life dad Amitabh Bachchan in R Balakrishnan's upcoming movie 'Paa' feels that it is a lifetime oppurtunity for him. 
"This is a role of a lifetime. Very few actors get such an experience and opportunity... especially a son to play father to his own 'Paa'. We are only and perhaps the first actor father-son duo to have played themselves in a role reversal," Abhishek told PTI in an interview. 
He said that 'Paa', where Big B plays a 13-year-old boy suffering from progeria, a rare genetic disorder which accelerates ageing, is a simple, light hearted and happy film.  "'Paa' is not a film about progeria. It is a happy film about a father and his son and the sweet moments that they share," Abhishek said. 
"The genetic disorder is just the unique backdrop of the film... just like 'Mili' where my mother (Jaya Bachchan) is suffering from a disease but the film was not about the illness," he said. 
"There is a family in Kolkata where three children of a family suffer from progeria syndrome. But Balki did not want us to meet them and discuss their condition because it would have been very insensitive and intrusive," the Junior Bachchan said.
Abhishek plays Amol Arte, a young politician and MP from Lucknow in the film.  "I have modelled my look after Sachin Pilot and Milind Deora. 
There were no special efforts taken for my look in the film because we wanted to keep the character as normal as possible," he said.   Besides, we had to maintain the uniqueness of Dad's look in the film and did not want to overload it with different types of looks for other characters, he added. 
The actor said that Balki made him shave "which I had not done for 5-6 years."  Abhishek also lost 15 kg when he shot for 'Paa'.  "I had lost weight for 'Raavan' and Mani Ratnam took ill during the making which delayed the shooting schedule for six months.
'Paa' was scheduled to go on floors in December this year after I finish 'Raavan'. Due to the delay in Raavan, we completed 'Paa' during that period," he said. 
On working with his father in movies, Abhishek said "Paa" is my fifth film with him. I am used to pressures of sharing screen space with him. I have never thought about the pressures and expectations as a challenge. I prefer using that energy to better my performance."  
"I got to spend time with him as for the last couple of years, my films have been shot outside Mumbai or abroad. Also due to the make up, it was easy to forget the real person behind the mask," he added. 
On director Balki, the actor said that his approach towards life was very unique.  "There is a freshness which can be witnessed in his films like 'Cheeni Kum' and this is evident in his direction as well," he said.
He also said that 'Paa' was not inspired by Robbin Williams film 'Jack' where the character is 10 years old but looks 40, when he first goes to a public school.
"It is a fantasy film based on the character's experiences at school while Paa is a father-son relationship story," he said.
Speaking about his experience in the film, Abhishek said that it was inevitable that his father will be best in terms of performance, more so with a new look. 
"But if the characters around him do not perform well, the world around Amitabh Bachchan's character will become unbelievable. It was a big challenge before me, Vidya Balan and Paresh Rawal was to be as convincing as possible," he said.
Abhishek also does not see AB Corp as a full fledged production studio when asked about other projects in the pipeline, except for 'Paa' and Marathi film 'Vihir' which ready for release. 
"I want the company to be a small production house which makes films we believe in and make them well irrespective of the language. It is not necessary that the films we make will have a Bachchan acting in it," he said.
The junior B has no plans to reduce his acting assignments and don the producer's hat.  "I will not be an active producer but will have a say in what kind of films, the company will be making," says Abhishek, who is one of the directors of A B Corp.
The actor is trained in production and has handled AB Corp's previous projects 'Mrityudataa' and 'Majorsaab'.  The actor is currently shooting for Ashutosh Gowariker's 'Khele Hum Jee Jaan Se' where he is paired opposite Deepika Padukone.
"This is a period film on the Chittagong uprising of 1930. The film went on floors last week and we are currently shooting in Goa," he says.   Abhishek said that Mani Ratnam's Raavan will release next summer. The actor is paired with wife Aishwarya Rai in the film. PTI