Rushabh Choksi breaks silence on Karishma-Upen's romance
New Delhi: Finally after long silence Bigg Boss contestant Karishma Tanna's boyfriend Rushabh Choksi busted out on her betrayal towards him.His reaction came just after Upen gifted Karishma a ring and confessed to marry her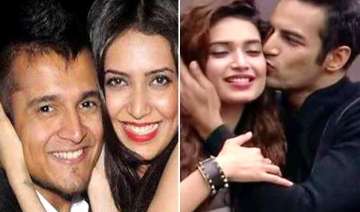 India TV Entertainment Desk
January 24, 2015 11:19 IST
New Delhi: Finally after long silence Bigg Boss contestant Karishma Tanna's boyfriend Rushabh Choksi busted out on her betrayal towards him.
His reaction came just after Upen gifted Karishma a ring and confessed to marry her after getting out of the house.
As soon as Upen re-entered the house he expressed his feelings for Karishma Tanna. Days ago Upen proposed Karishma Tanna on national television saying that he is in love with her.
Karishma accepted his proposal by saying that she will look forward on this relationship, once they are out of house. The two of them even kissed publicly and confessed their love for each other.
ALSO READ: Bigg Boss 8 Halla Bol Day 15: Upen gifts a ring to Karishma, Mehek bows out of the house (see pics)
On this, Karishma's boyfriend Rushabh Choksi reacted very calmly. He said, "I have nothing to say. Karishma and I are very good friends and nothing more", as quoted by a website.
But the heart broken couldn't stay quiet for long. Rushabh Choksi took his frustration out by tweeting about Karishma Tanna on social website. "All relationships go through a test a bad phase and shit bt der is way to go about things. What KT is doing is disgusting & out right tacky" tweteed Rushabh.
ALSO READ: Bigg Boss 8 Halla Bol Day 13: Karishma Tanna breaks up with boyfriend (see pics)
According to reports Karishma decided to break up with her boyfriend soon after she came to know about his loss in business.  Karishma's closeness with Upen has surely disheartened Rushabh. He also tweeted, "Upen you can have her. I'll get a new and better one lol #BB8 #WeAreWithGautam."
Well, it is visible that Karishma's open romance with Upen in BB house has certainly affected her relation with her boyfriend Rushabh. We hope Karishma and Upen's love blossoms even after BB ends.