Sachin Tendulkar to reveal his 'unseen side' in a film
New Delhi: Sachin Tendulkar has been roped in to play himself in an upcoming feature film. The legendary Indian cricketer has reportedly given thumbs up for the making of a feature film on his life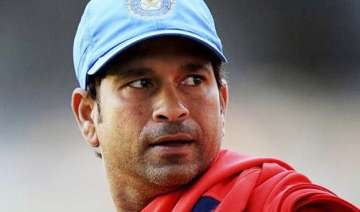 India TV Entertainment Desk
January 08, 2015 14:09 IST
New Delhi: Sachin Tendulkar has been roped in to play himself in an upcoming feature film. The legendary Indian cricketer has reportedly given thumbs up for the making of a feature film on his life and has also agreed to be a part of it.
The makers of the film are a Mumbai-based production company that has over 150 advertisements and short films to its credit. 200 Not Out production house has managed to get exclusive rights from the master blaster himself. Moreover, Sachin Tendulkar has also been more-than-willing to provide his valuable inputs to the team for the film.
200 Not Out has bagged the permission from World Sports Group (WSG) and has also brought James Erskine, a London-based award-winning writer, director and producer to direct the film.
Erskine has films like 'Battle of the Sexes' (a popular film on Tennis), 'One Night in Turin' (a film on football World Cu 2010) and 'Pantani: The Accidental Death of a Cyclist' (a film on a popular cyclist) to his credit.
WSG that handles Tendulkar's brand and commercials' dealings across the world has already started working on the film. Several other prominent faces around the globe are also contributing their part in the film.
In order to use the earlier match footages, WSG is in constant touch with the cricket boards across the world.
The film, which is yet to be titled will not just be a plane tale of Sachin Tendulkar's life, but it is expected to reveal a few unheard and unseen stances of the cricketer's life. Apart from his life around Cricket, the focus would also be on his life outside the field, his early school days, friends, marriage to Anjali and other vital issues constituting his life.
The film is set to hit the theatres in more than 200 screens worldwide and popular sports broadcasting company has taken the marketing rights for the movie.  
The film has a complete go-ahead by Sachin Tendulkar and the makers are all geared up to deliver the 'Sachin era' to the audience.