Salman Khan partied alone on Eid (view pics)
Mumbai, Aug: While the entire Bollywood flooded at Shah Rukh Khan's Eid party, Salman Khan all alone was spotted partying at a nightclub in Mumbai on the same day. Donning a blue t-shirt and jeans, Salman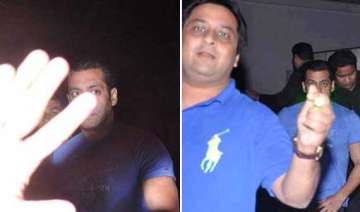 India TV Entertainment Desk
August 13, 2013 17:25 IST
Mumbai, Aug:
While the entire Bollywood flooded at Shah Rukh Khan's Eid party, Salman Khan all alone was spotted partying at a nightclub in Mumbai on the same day. 
Donning a blue t-shirt and jeans, Salman was captured while leaving the club alone.
His younger brother Arbaaz Khan and his wife Malaika Arora were among the invitees at SRK's Eid bash.