Salman Khan takes the Twitter route to promote 'Dolly Ki Doli'
New Delhi: Bollywood's bhai Salman Khan took it to Twitter to promote his brother Arbaaz's film 'Dolly Ki Doli' and that too in a unique style. Salman posted 20 tweets in just 8 minutes to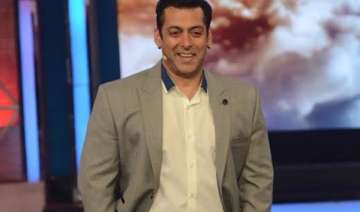 India TV Entertainment Desk
January 24, 2015 17:04 IST
New Delhi: Bollywood's bhai Salman Khan took it to Twitter to promote his brother Arbaaz's film 'Dolly Ki Doli' and that too in a unique style. Salman posted 20 tweets in just 8 minutes to his 10.3 million followers.
This was unprecedented for the macho actor as he is not that active on social networking site. Before his flood of tweets the actor had only tweeted five times in 20 days.
The style of Salman Khan's tweets is as unique as him. The actor succeeds in communicating with his followers in a simple way. Even his good night tweet got close to two thousand retweets and 4.5 K favourites.
Salman is currently busy shooting for his upcoming film 'Bajrangi Bhaijaan' in a remote village of Rajasthan. After watching the movie with entire team of 'Bajrangi Bhaijaan' the actor started flurry of the tweets.
Here is what he posted:
"Jst watched dolly ki dolly . Poocho kaisi lagi ."
"Poocha ?"
"Nahi ?"
"Arre kya yaar"
"Challo mat poocho but ja k dekho . Its"
"Toooo"
"Much"
"Funnn"
"Arbaaz as producer"
"Abhishek dogra as director"
"Pull kit"
"Sonam kapoorrrrrrrrrrr""Raj kumar""Varun"
"Dialogues , script the word is superb . U guys wld love it"
"The whole bajrangi bhaijaan team watched the movie in a theatre close to us abt 35 km frm us n v loved it . Ma kasaam"
"Dekh k bolna k mai jhoot bolria ? Koi na k mai kufr toliya ? Koi na ."
"See it . Its too much fun like I said"                  
"Abb so jao . Kal dolly ki dolly ko uthana hai ."
"Good nite . Shub ratri , shabba khair ."
'Dolly Ki Doli' released yesterday with mixed reviews. The film reportedly earned Rs 2 crore on its opening day.