Sasural Simar Ka: Khushi's gifts for Bharadwaj family
Mumbai: In the TV show 'Sasural Simar Ka' on Colors, someone has send gifts for Bharadwaj family. When Simar opens the box she gets very scared to see a snake in front of her. Everyone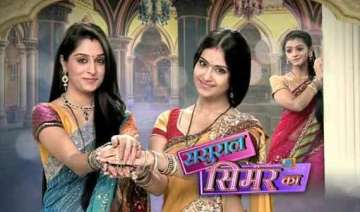 PTI
March 15, 2014 18:56 IST
Mumbai:
In the TV show 'Sasural Simar Ka' on Colors, someone has send gifts for Bharadwaj family. When Simar opens the box she gets very scared to see a snake in front of her. Everyone is scared and shocked in the family and trying to get rid of the snake.
If it is Khushi's plan to take revenge from Bharadwaj family then she will not succeed in it as Roli will succeed in throwing the snake out from the house.
Watch the scene being shot here.