Satyamev Jayate 2: Show starts with fight against rape (see pics)
New Delhi: "Heart stirring" and "real hero" was how viewers lauded the first episode of the second season of "Satyamev Jayate" that focused upon the issue of rape in the country.The much-awaited talk show, with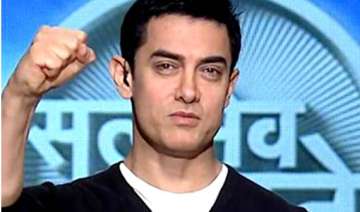 PTI
March 03, 2014 16:10 IST
New Delhi
: "Heart stirring" and "real hero" was how viewers lauded the first episode of the second season of "Satyamev Jayate" that focused upon the issue of rape in the country.
The much-awaited talk show, with the tagline "Jinhe desh ki fikr hai" (those who care for the country), went on air Sunday and its host and Bollywood star Aamir Khan once again struck the right chord.
The show received around 12 lakh missed calls in two hours from people who want to join the fight against rape.
Titled "Fighting rape", the first episode began with the narration of the Dec 16 Delhi gang rape case, in which a 23-year-old physiotherapy intern was brutally gangraped in a bus.