Watch: Shah Rukh protects son AbRam as crowd mobs them outside toy store
New Delhi: Shah Rukh Khan's stardom knows no boundaries. Be it India or any other foreign country, one can find SRK fans spread all over.Such fan following, usually, delights stars. However, the recent incident brought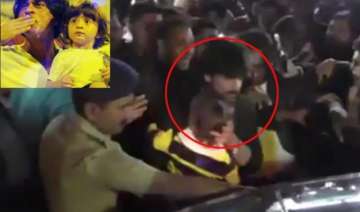 India TV Entertainment Desk
February 08, 2016 9:46 IST
New Delhi: Shah Rukh Khan's stardom knows no boundaries. Be it India or any other foreign country, one can find SRK fans spread all over.
Such fan following, usually, delights stars. However, the recent incident brought some unwarranted trouble for King Khan who was pout with his son.
Shah Rukh, who is busy shooting for his upcoming movie 'Raees' in Burj, was mobbed by his fans when he was with son AbRam.
Apparently, SRK took out some time out for his lovely son and was shopping toys in a shop. However, the superstar's fans were already present to catch a glimpse of Shahrukh Khan and his son AbRam outside. Soon, things started getting a little chaotic at the scene. Shah Rukh came out of the toy shop and quickly rushed into his car protecting little AbRam in his hands.
One of the Shah Rukh fan clubs posted the video of the incident on Twitter.
"SRK and AbRam in Bhuj. @iamsrk He must be the youngest Indian to be mobbed like this haha"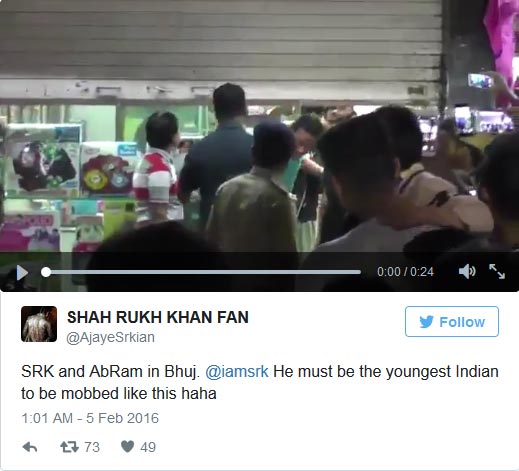 This level of attention from the fans is indeed difficult to handle for the little munchkin while it's a daily routine for his papa dear. Earlier too, Shahrukh Khan was spotted at the London airport buying some gifts for his little son.
AbRam surely must have a lot of toys to play with by now.