Shah Rukh apologises for his behaviour during IPL match at Wankhede stadium
New Delhi, Aug 9 : Bollywood megastar Shahrukh Khan has apologised for what he called his incorrect behaviour during the IPL match at Wankhede stadium in May 2012.  He was replying to queries from Rajat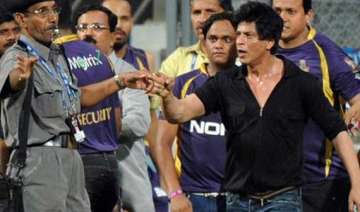 India TV News Desk
August 09, 2013 14:19 IST
New Delhi, Aug 9 :
Bollywood megastar Shahrukh Khan has apologised for what he called his incorrect behaviour during the IPL match at Wankhede stadium in May 2012.  
He was replying to queries from Rajat Sharma in the show Aap Ki Adalat on India TV.
Said SRK: "Yes, I was very much angry. There were some security men who were not behaving well with the group of children whom I had brought to watch the match. One of the men in the enclosure made a very cheap and communal remark against me, and then I blew up.
"I knew I was outnumbered, but like a true Delhiwallah, I acted as if I would beat up that man. After that incident, I have decided I would never do such things in public, but if I get that man inside a washroom, I would lock the room and bash him up.
"When I returned home, my wife Gauri and my children said, I should not have reacted in this manner. My daughter Suhana said, you are a big star and you should not have behaved like that. I apologise for my behaviour."
(" Haan, mein bhut gussa ho gaya tha kyuki mere bache the waha per , bad mein baatein bhut tod marod ke dekhai gai lakin sachai hai ki mere bache kahde the waha per to kise ne bola ki are hatao inhe.. aur maine jawab mein kha ki are kya kar rhe ho bache hai humare, hum le kar ja rahe hai… to waha ek insaan the jinhone kuch kaha to mujhe bura laga..delhi ki language mein mujhe gaali lagi …to main unhe maarne ke liye badha lakin maar nahi saka kyuki police ne bola tha ki jail mein daal dunga agar kisi se maar pit ki to.. lakin mein us aadmi ko dara diya tha..
"halaki mujhe bad mein laga ki mujhe aisa nahi karna chaye tha or mjhe bhut bura bhi laga..kyuki ab mujhe lagata hai ki mein aisa insaan ban chukka hu jisse kuch karne se public ko effect padta hai...lakin mujhe lagata nahi ki maine as a father kuch galat kiya lakin haan tv per aane or as a actor maine galat kiya iske liye aaj main adalat mein judge sahib or logo se maafi mangata hu..us behave ke liye..uske baad maine ye decide kiya hai mujhe gussa aayga to main bathroom band karke apna gussa nikaluga lakin publicly kabhi gussa nahi karuga…
"is baar ke liye mujhe maaf karde..main jab ghar aaya to meri biwi or bachao ne mujhe danta ki aisa behavior nahi karna chaye tha..maine apne bete se kaha ki but you saw what happened..he said papa but its too much .. maine apni bethi se kaha but Suhana he was pushing you, he abused you… she said, yeah but it was not right you are so angry…you are a big star you should behave yourself…to mein bhut sharminda hua…judge sahib iski punishment mujhe meri family or bacho ne de di hai… ab isko thora bhool jaeye please." )
Aap Ki Adalat with Shah Rukh Khan will be telecast on India TV on Saturday (Aug 10) at 10 pm and on Sunday (Aug 11) at 10 am and 10 pm.