Big B, Shah Rukh Khan, Sanjay Dutt - Bollywood actors who battled depression
New Delhi: Deepika Padukone recently came out in open to disclose that she had suffered from depression and how she dealt with the painful phase. However, the bold actress is not the first Bollywood celebrity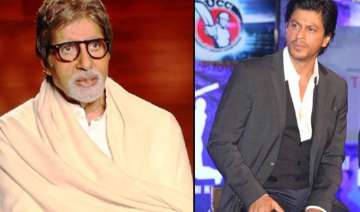 India TV Entertainment Desk
January 19, 2015 11:29 IST
New Delhi: Deepika Padukone recently came out in open to disclose that she had suffered from depression and how she dealt with the painful phase. However, the bold actress is not the first Bollywood celebrity who has suffered from this ailment.
Here are a few of the other Indian film personalities who have been the victims of depression:  
Dilip Kumar
One of the most revered actors of Bollywood, Dilip Kumar was deeply in love with his Mughal-e-Azam co-actress Madhubala, but for some reasons the two couldn't be together. After the death of Madhubala he went into depression although he was married to Saira Banu.
Rajesh Khanna
India's first superstar Rajesh Khanna's rise to fame story is quite renowned. But the actor's downfall is no less dramatic. The Bollywood actor went into depression following his downfall in nineties and never actually recovered from it. A failed marriage also contributed in his physical and mental illness that led to his death at the age of 69.
Amitabh Bachchan
Bollywood megastar Amitabh Bachchan has also been a victim of depression. The actor turned producer in 1996 with his company ABCL. Following the back-to-back failure of his films, Amitabh went bankrupt and got into deep depression. However, the megastar recollected himself and revived his acting career and became who he is today.
Shah Rukh Khan
It is quite unlikely that someone as successful as King Khan would get into depression. Shah Rukh revealed in an interview in 2008 that after his shoulder surgery, he went into depression. The actor recovered from his physical and mental health issues and gave us films like 'My Name is Khan' and 'Chennai Express'.
Sanjay Dutt
Sanjay Dutt has been one actor who has evidently gone through a lot in his life. The actor saw his mother's death when he was very young. Later, his wife died because of cancer. The troubled actor spent 18 months in prison after his arrest following the Mumbai serial blasts of 1993. Sanjay Dutt suffered from depression during his re-imprisonment in 2013. It was reported that the actor was even unable to sleep.
Jiah Khan
The British-Indian actress who made her Bollywood debut with Ram Gopal Verma's 'Nishabd' suffered from the feeling of being alone and sick in 2013. She was not strong enough to fight the battle with this ill phase and succumbed to depression, committing suicide on June 3 2013.
Parveen Babi
The beautiful actress of 'Deewar' and 'Shaan' Parveen Babi suffered a major depression during her last days. It was reported that she did not get out of the house during her last days. She was found dead in her home on January 2005 and the police suspected that she had been dead for 72 hours before her body was found.