Five things Shah Rukh Khan revealed about 'Fan' at trailer launch
New Delhi: Amidst a lot of roar by his fans, superstar Shah Rukh Khan unveiled the much awaited trailer of 'Fan'. Most of us probably know by now that in this Maneesh Sharma directorial, SRK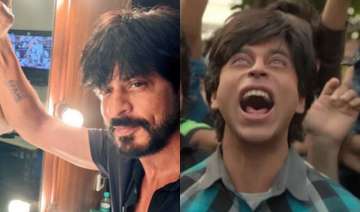 India TV Entertainment Desk
February 29, 2016 23:53 IST
New Delhi: Amidst a lot of roar by his fans, superstar Shah Rukh Khan unveiled the much awaited trailer of 'Fan'. Most of us probably know by now that in this Maneesh Sharma directorial, SRK will play two roles. He will be seen as Aryan Khanna, a cine star and his look-alike fan.
The high on drama trailer left everyone on the edge of their seat. We saw Gaurav (the fan version of SRK) in a dreadful avatar. Whatever we saw of Gaurav, only indicated that it is one of the most difficult roles essayed by Shah Rukh Khan.
At the trailer launch, the showman SRK ensured he put up a good show. We saw him repeating his famous dialogues, interacting with fans and even calling few on stage to give them once-in-a-lifetime moment.
Being the high on wit star that he is, Shah Rukh stole the show when he said, "My stardom is to be worn like a t-shirt, not a tuxedo," and sent the fans to a frenzy.  
However, the trailer launch was much more than just a celebratory event. King Khan doled out few secrets about FAN. Here's a few one of them for you:
1. "I'm not like any of the characters that I've played in the last 25 years," he said. This only means that even in his upcoming movie FAN, SRK's character Aryan will be different to his real life.
2. "I shot the Jabra song while I was injured", revealed Shah Rukh Khan. We are sure seeing the foot tapping number top charts, his injury pain would have soothed.
3. Shah Rukh Khan also revealed what the movie is about. He said, "The film isn't just about a Fan but also about a misunderstood superstar."
4. "This is the first film where I haven't done my signature step," revealed King Khan.
5. Contrary to what you may believe, bringing out the Delhi authentication in the movie wasn't easy for Shah Rukh. He said that since he has been living in Mumbai for 25 years he lost Delhi's tehzeeb. "Everybody related to the film remembered the dialect of Delhi and they helped me a lot."