Shah Rukh on Honey Singh: I haven't had a fight with him at all
New Delhi: There has been news doing the rounds about a spat between superstar Shah Rukh Khan and rapper Yo Yo Honey Singh, but now SRK has come out in open to clear the air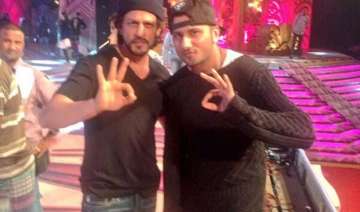 India TV Entertainment Desk
January 28, 2015 15:26 IST
New Delhi: There has been news doing the rounds about a spat between superstar Shah Rukh Khan and rapper Yo Yo Honey Singh, but now SRK has come out in open to clear the air surrounding it.  
The rumour was that King Khan slapped the rapper and asked him to leave during the SLAM! Tour. Honey Signgh has been away from the limelight since then, unable to clarify anything. So it is Shah Rukh who has to clarify the whole episode.
Speaking to Hinduatan Times, the 'Happy New Year' actor said, "I haven't had a fight with him at all. He's a sweetheart and a friend and I haven't met him for a long time as he has been unwell. I hope he gets well."
Shah Rukh further added, "I will surely call him soon, now that you have reminded me. I haven't managed to keep in touch as I am not a very social person. I keep in touch with the people I am working with."
Honey Singh and SRK had collaborated for a song 'Lungi Dance' in 'Chennai Express'.
It seems like Honey Singh has been a victim of a lot of rumours lately. Recently it was being reported that Yo Yo Honey Singh checked into a rehab facility to get a treatment for his drug addiction. His wife had to clarify that he is not a drug addict, he's just not well.