Shah Rukh Khan doesn't want awards for 'HNY', makes shocking confessions
New Delhi: His 'Happy New Year' was the third biggest blockbuster of the year 2014, but actor Shah Rukh Khan doesn't want to be nominated in any of the award ceremonies for his performance in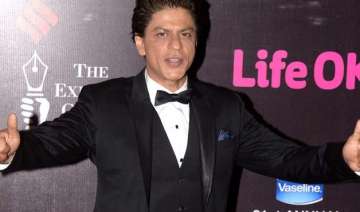 India TV Entertainment Desk
January 27, 2015 10:50 IST
New Delhi: His 'Happy New Year' was the third biggest blockbuster of the year 2014, but actor Shah Rukh Khan doesn't want to be nominated in any of the award ceremonies for his performance in that flick.
Yes, King Khan whose charisma was enough to lure audience to watch the non-sensible Farah Khan's directorial feels that his performance in the flick wasn't up to the mark, "I haven't acted well enough. I don't think I should be nominated. I did one film last year and since I have hosted two shows I know there are seven or rather seventy other people who are better than me. I don't think I should be nominated for acting, for Happy New Year. Yes, the film has done very well but as an actor I don't think I deserve to be nominated", said King Khan in an interview to a leading daily.
However, in a recently held couple of award ceremonies like Big Star Entertainment Awards and Life OK Screen Awards, the actor was honoured in numerous categories. But here the superstar has made some shocking revelation over the reason behind getting nominated and winning such awards. In the same interview he added that there are innumerable award ceremonies being introduced by media groups and TV channels. And in order to maintain a better cordial relationship, the jury of the awards and the channels' staff doesn't want to disappoint them.
Considering that, they introduce different categories like best actor in romance/action/comedy which gives most of the actors a win-win situation. None of them gets ignored and with at least an award in their kitty they feel glad to maintain terms with the channel.
However, this is an ugly truth and many of the cinema observers earlier have raised the issue expressing it dilutes the purity of awards.
SRK many a times has been mocked over the number of awards he has received till date for, which it's said that most of them are given to him by channels for continuing to co-ordinate with them. However, this time the superstar feels no shy in accepting the fact and goes ahead unearthing some more bitter truths behind these award ceremonies.
"Now what they (channels and awards ceremonies) have started doing is mixing everything. There is a Critics' award, and there is a popular award, plus there is Jodi, Tigdi, Ensemble Cast, etc. At yet another function, there are categories for Best Actor in a Thrilling Role, Comedy, Romantic, — in short, everybody is getting it! It also depends on the selection committee, jury, the media house associated with it, the TV channel that is connected to it — if you see it in that spirit, it's all right. Many a time, media houses have issues. If they have a good relationship with an actor and he is not getting the award, they try to remove the category as the relationship may get affected. If not, a new category is introduced! I have got several awards like that. One such award I remember getting is Global International Icon Superstar of the Universe! Then there are the sponsors who have their own awards like Fair and Beautiful, Tall award, Beauty award etc. There is a commercial aspect to it, not in terms of money, but in terms of popularity", said Shah Rukh in an interview to a leading daily.
It's seen that many of the stars due to such biasness by the channels (which are greedy of high TRPs) have lost faith in award ceremonies. Last year Ajay Devgn boycotted award functions because one of the organizers invited him and in return promised to honour him with an award by introducing an unworthy category.
In another case Sridevi (was declared winner for 'English Vinglish' on website) was shocked when her name was swapped with another actress at the last moment following, which she and her husband decided to stay away from the award ceremonies.
Aamir Khan since years isn't marking his presence at any of the award ceremonies while Salman Khan too is rarely seen at such functions. Clearly, the quality of the performances is being neglected and in such scenario it's hard to determine who the real winner is.