My relationship with Salman has gone beyond oneupmanship: SRK
New Delhi, Aug 9: Bollywood megastar Shahrukh Khan has said, he and Salman Khan are now mature individuals, and their relationship has gone beyond oneupmanship.  The King Khan of Bollywood had recently hugged Salman Khan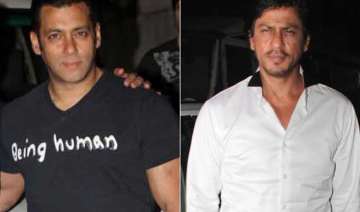 India TV News Desk
August 09, 2013 16:24 IST
New Delhi, Aug 9:
Bollywood megastar Shahrukh Khan has said, he and Salman Khan are now mature individuals, and their relationship has gone beyond oneupmanship.  
The King Khan of Bollywood had recently hugged Salman Khan at an iftar party in Mumbai hosted by local MLA Baba Siddiqui, and since then there have been reports about the two stars having reached a compromise. The two had publicly quarrelled at a birthday party hosted by Katrina Kaif several years ago.
Appearing in Rajat Sharma's talk show Aap Ki Adalat to be telecast on India TV on Saturday, Shahrukh Khan was asked whether the oneupmanship between the two would continue.
Shahrukh Khan replied: "This has gone beyond this... (oneupmanship), no question of bowing or making him bow.  It may have been there a year or two ago, whether he should speak first, or I should, but now both of us have become mature (samajhdaar).
(Ab ye  uskey beyond ja chuki hai, jukhe jhukane ki baat se upar baat ho chuki hai…ek do saal pahle rahi hogi,  woh pahle bole, main bolun, hum dono he samjhdar ho chuke hain.)
When Rajat Sharma asked SRK whether he would invite Salman to watch Chennai Express on Eid festival, SRK replied: "On Eid, I myself would not be watching Chennai Express. I would be celebrating Eid. But actually, most certainly, if there is an Eid function at my house, or they have a function in their house, then invitations go from both sides.  Let's see, this will surely happen some day, we will become more mature, either he will come, or I will go to his house. Inshallah, everything would be fine. "
(Matlab, eid ke din to main bhi Chennai Express nahi dekh rha  hoon, Eid mana raha hoon.. but actually yes, most certainly,  hamare ghar me Eid ka function hua,  ya unke ghar pe Eid ka function hua, to nyota dono taraf se aata hai..to dekhye ho jayega ek din kabhi wo aayge kabhi hum jayage…hum  aur mature ho jayenge, hum kaafi mature ho chuk hain, ho jayga kisi din..  Inshallah sab thek thak ho jayega.  )
When Rajat Sharma remarked, this would be good news for both Salman's fans and his fans, Shahrukh Khan replied: "Actually, I will tell you, I have great respect for him, not only as a friend as a family, but as a star and as an actor, they helped me when I came to Bollywood the first time, of course, I am the senior".
(Acutally, I will tell you Mujhe unke baar me  bahut respect hai, not only as a friend as a family but as  a star and as an actor, jab main shuru me aaya tha, waise senior hoon main.)
Aap Ki Adalat with Shah Rukh Khan will be telecast on India TV on Saturday (Aug 10) at 10 pm and on Sunday (Aug 11) at 10 am and 10 pm.