Shah Rukh Khan shows love for son on Twitter (see pics)
New Delhi: Shah Rukh Khan is no doubt one of the most doting fathers in Bollywood. And when it comes to express love for his kids, he skips no platform and showers great adore over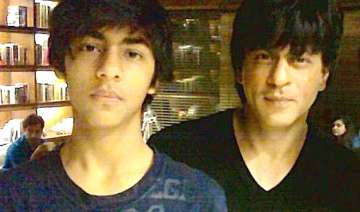 India TV Entertainment Desk
June 21, 2014 9:13 IST
New Delhi:
Shah Rukh Khan is no doubt one of the most doting fathers in Bollywood. And when it comes to express love for his kids, he skips no platform and showers great adore over all his kids.
While recently, Shah Rukh's loving daughter Suhana got her share of love when daddy SRK posted an adorable picture with her on Twitter, it was son Aryan's turn this time.
Just a few moments ago, King Khan, Shah Rukh Khan has tweeted a post clearly mentioning that how much proud he feels over his upbringing for son Aryan.
The deep sentiments that only a father can decode, Shah Rukh seemed emotional writing the post. His post reads: "There was a time when I could hold this bundle of innocence in my arms…now it towers over me. Time & sons move fast."
He has also posted a picture of Aryan from his childhood days wherein daddy cheerful can be seen holding little Aryan in hand and swinging.
Shah Rukh Khan, who is busy with his upcoming, 'Happy New Year' these days and of course with the viral #FIFAWorldCup, is also a very active twitterati.
He also dedicated his team KKR's IPL 7 win to his little son AbRam and even posted a picture of KKR jersey with the name of AbRam printed over it.
We love when Shah Rukh's such acts prove that he is as emotional as any common person here!