Shamitabh's second trailer out, Dhanush is Amitabh's voice (watch video)
New Delhi: R. Balki's directorial 'Shamitabh' is due to release on Feb 6 and the promotions of the film are in full swing. Yesterday at an event, its second trailer was launched along with the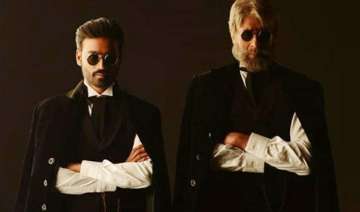 India TV Entertainment Desk
January 21, 2015 19:22 IST
New Delhi: R. Balki's directorial 'Shamitabh' is due to release on Feb 6 and the promotions of the film are in full swing. Yesterday at an event, its second trailer was launched along with the music.
Where the first trailer of 'Shamitabh' showed a personality clash between Dhanush and Big B's character and did not reveal much about the plot, the second trailer at least gives us a hint about it.
What is intriguing about this trailer is that here, Amitabh plays an actor who is not able to speak his dialogues properly. Dhanush comes in and voices him perfectly and they become a team. Dhanush+Amitabh make the title of the film 'Shamitabh'. There is a possibility that these two actors would be playing themselves on the screen.
Debutant Akshara Haasan would be playing a director who ropes in Amitabhh and Dhanush to make a film.
By combining both the trailers, we can get a feel of the plot that a clash between voice and face is going to happen.
Dhanush is heard saying in Amitabh's voice, "Aap media ke log to awaz aur chehre ke beech bhi nafrat paida kar sakte hain!"
A dialogue can best describe Amitabh's ego when he says about his voice, "Ye awaz ek kutte ke muh se bhi acchi lagegi!"
The film is not just about the ego clash of two angry men but there seems to be a love story between Akshara and Dhanush's characters too. Hilarious side of the film is shown when Akshara says "Kiss my a** monkey" to Dhanush, and he literally does.
Watch the trailer here:
The musical maestro Ilayaraja has brought alive the trailer by his background music. Yesterday, at the music and trailer launch event, several prominent names were present including Amitabh Bachchan, Rajinikanth, Gulzar and Kamal Haasan also paid tribute to the master.