Shilpa Shetty-Harman Baweja promotes 'Dishkiyaoon' on 'Boogie Woogie' (see pics)
Mumbai: Shilpa Shetty and Harman Baweja promote Dishkiyaoon on Boogie Woogie, a popular dance show on Sony Entertainment TV in Mumbai recently. Javed Jaffrey, Ravi behl, Naved Jaffrey were also present at the show.The two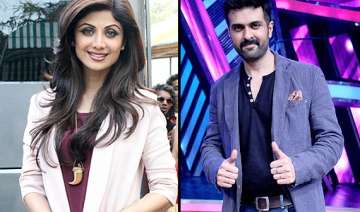 PTI
March 14, 2014 17:03 IST
Mumbai
: Shilpa Shetty and Harman Baweja promote Dishkiyaoon on Boogie Woogie, a popular dance show on Sony Entertainment TV in Mumbai recently. Javed Jaffrey, Ravi behl, Naved Jaffrey were also present at the show.
The two had fun with the judges of the show and they also danced to the item song 'Tu Mere Type Ka Nahi Hai'.
'Dishkiyaaoon', slated to release March 28, also features actor Sunny Deol and newcomer Ayesha Khanna.