Shotgun Shaves Off Moustache To Play NTR
BJP MP from Patna Saheb Shatrughan Sinha has shaved off his  trademark  moustache to play  Telugu Desam founder  Late N T Rama Rao in Ram Gopal Varma's film 'Rakta Charitra'. For the first time in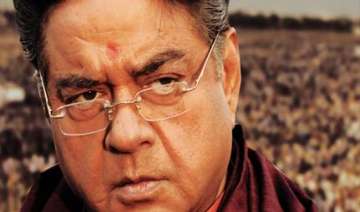 PTI
November 05, 2009 11:43 IST
BJP MP from Patna Saheb Shatrughan Sinha has shaved off his  trademark  moustache to play  Telugu Desam founder  Late N T Rama Rao in Ram Gopal Varma's film 'Rakta Charitra'.
For the first time in his career, the actor will be seen minus his moustache on the big screen.
'I had to do it with a heavy heart as the director said it is a must for the character I am playing', Sinha said.
On his role as NTR, Shatrughan Sinha says: 'It is a big challenge and I would try to do my best to do justice to the role'. NTR launched the Telugu Desam Party in 1983 and defeated the Congress in the Andhra Pradesh Assembly election in a landslide victory to become the chief minister.
NTR usually  played the roles of saints or Robin Hood type heroes in his films. He died a broken man, away from his large family as was looked after by Lakshmi Parvati, his companion of later years. The Telugu thespian-turned-politician was credited with implementing the Rs 1 per kilo rice for poor people in the state.
Shatrughan Sinha has taken a break from politics to focus on his role in the movie but he plans to finish the shooting on time to hit the campaign trail in Jharkhand for the forthcoming assembly elections.