Sivaji wants to be mass hero, uses comedy as tool
Chennai, July 16: Telugu actor Sivaji, popular for his comedies, likes to be regarded as a hero of the masses and that is the reason why he prefers working in fun films."Audiences have loved my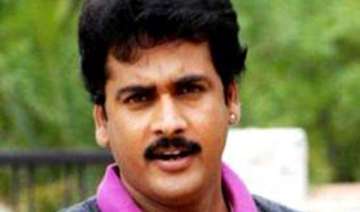 IANS
July 16, 2013 7:29 IST
Chennai, July 16
: Telugu actor Sivaji, popular for his comedies, likes to be regarded as a hero of the masses and that is the reason why he prefers working in fun films.
"Audiences have loved my films for wholesome entertainment. The reason I prefer doing more comedy films is because I like to grow as a mass hero. I think comedy is one genre most watched by the masses," Sivaji told IANS.
His next Telugu film titled "Aasa Dosa Appadam" also happens to be a light-hearted film.
"I don't go in search of comedy films. I'm open to different genres, but the offer I get mostly belong to the comedy genre. I have no regrets as I personally enjoy doing comedy and moreover audiences like to be entertained," he said.
Some of his best comedies include "Tata Birla Madyalo Laila", "Aadivaram Adavalluku Selavu" and "Missamma".
The success rate of comedies is high, he said.
"Most of my comedy films have been successful. It's also one of the safest genres for producers to invest their money in because the success rate is pretty high," said Sivaji, who has also done films in other genres.
"I played negative characters in the beginning of my career. I have also acted in horror and thriller films, but comedy has played a very important role in shaping up my career," he said.
In "Aasa Dosa Appadam", Sivaji has teamed up with director Gandhi Manohar, who earlier made Telugu comedy "Em Babu Laddu Kavala" with him.
The film also features Krishnudu, Sona Chabra, Vijay Sai and Chitram Srinu, among others. Produced by C.D Nagendra, it is in post-production phase.