Watch: That emotional moment when Neerja Bhanot's mother called Sonam her 'Laado'
New Delhi: Actress Sonam Kapoor along with the team of upcoming movie 'Neerja' have taken it upon themselves to tell the tale of Neerja Bhanot. A 23 year airhostesses, Neerja saved the lives of 360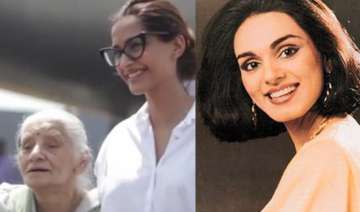 India TV Entertainment Desk
February 08, 2016 20:37 IST
New Delhi: Actress Sonam Kapoor along with the team of upcoming movie 'Neerja' have taken it upon themselves to tell the tale of Neerja Bhanot. A 23 year airhostesses, Neerja saved the lives of 360 passengers on September 5th, 1986. The Pan Am Flight 73, was hijacked by four terrorists and Neerja was awarded the Ashoka Chakra Award for a illustration of valour.
The titular role will be played by Sonam who first thought she was not perfect for the role, met Neerja's mother Rama Bhanot to seek her blessings. In the latest video released by the filmmakers, Sonam has revealed that she was nervous before meeting her.
But, to her surprise, Rama was elated to meet her. She referred to Sonam as 'Laado'. Sonam also remembered her meeting with the Bhanot family and said that they were just like any normal family. Rama had called her daughter Neerja, 'prettier' than Sonam.  
In the video, Sonam has also explained how difficult it was for her to get into the skin of the character. Neerja, was a fearless girl and she felt a 'sense of responsibility' during shooting. She didn't want to let the martyr down.
Sonam was seen thanking the supporting cast of the movie in the video when she said, "If they wouldn't have been this brilliant, I would've been mediocre as well."
'Neerja', produced by Fox Star Hindi, Atul Kasbekar and directed by Ram Madhvani will release on February 19th.
Watch the making video here: