Sonu Sood shattered after his father's demise
New Delhi: Actor Sonu Sood's father Shakti Sood passed away on Sunday, 7th February. He was 77 and suffering from respiratory problems for the past four years, told media reports. The actors' father breathed his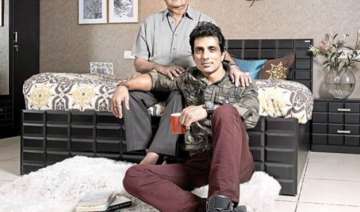 India TV Entertainment Desk
February 08, 2016 17:30 IST
New Delhi: Actor Sonu Sood's father Shakti Sood passed away on Sunday, 7th February. He was 77 and suffering from respiratory problems for the past four years, told media reports. The actors' father breathed his last at their ancestral residence in Moga, Punjab.
The Dabangg actor is in a state of immense grief. He told a leading daily, "I am shattered. I have nothing to say right now".
Sonu had lost his mother eight years ago. "His father was suffering from respiratory problems since years now and that is why he never agreed to move with Sonu to Mumbai. He preferred staying in Punjab. Following the death of Sonu's mother almost eight years back, he was living alone. Sonu visited him quite often. Sonu's sisters Monika and Malvika are married. One is in Punjab while other is married abroad. Cremation will be held on Tuesday after the sisters arrive," a member close to the Sood family was quoted by a leading daily.
After his father collapsed suddenly in the middle of the conversation, Sonu rushed him to the hospital. The doctors said he had died immediately after the attack.
Sonu was in Punjab to participate in the Celebrity Cricket League (CCL) as his team 'Punjab De Sher' had a match in Mohali.