SRK Smells Good, Says Anushka Sharma
It's been a year since Anushka Sharma stepped into Bollywood with Yashraj film Rab Ne Bana Di Jodi opposite Shahrukh Khan but she still hasn't forgotten how the superstar smelled like, says a media report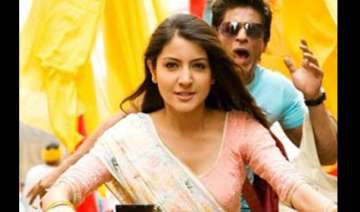 PTI
November 27, 2009 14:10 IST
It's been a year since Anushka Sharma stepped into Bollywood with Yashraj film Rab Ne Bana Di Jodi opposite Shahrukh Khan but she still hasn't forgotten how the superstar smelled like, says a media report 
"One thing I can't forget about SRK is his smell. He smells superb. He used to smell different each time. I would be like, 'Wow man! Shah Rukh, you smell so good'" Anushka recently told a film magazine about her experience of working with SRK.
The Bangalorean beauty went on to add that SRK remains an enigma to her. The more she tried to understand him, the more mysterious he remained.
"If you think you know Shah Rukh Khan, you don't. That's the thing about him. He can always keep you guessing. Each day I used to be like - 'Okay, he's like this, oh no he's not like that'. Every day he used to be a new person for me. He's just so mysterious, yaar," Anushka revealed.
Anushka is presently working opposite Shahid Kapoor in another Yashraj film being directed by actor-turned-director Parmeet Sethi. It is being shot at foreign locations, says the report.