SRK's stardom embarrasses his kids
Mumbai, Aug 10: Shah Rukh Khan says his star status sometimes embarrasses and angers his two children—Aryan and Suhana—who are uncomfortable sharing the limelight. On Eid, the 47-year-old superstar along with wife Gauri, his sister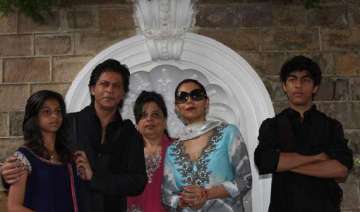 PTI
August 10, 2013 16:14 IST
Mumbai, Aug 10:
Shah Rukh Khan says his star status sometimes embarrasses and angers his two children—Aryan and Suhana—who are uncomfortable sharing the limelight. On Eid, the 47-year-old superstar along with wife Gauri, his sister Shehnaz and children came out to pose for the shutterbugs after offering prayers with the family.  He waved at hundreds of fans, waiting for him since morning outside his residence 'Mannat' in suburban Bandra.  Holding her father's hand, daughter Suhana also waved at the fans along with brother Aryan, who seemed a little uncomfortable.
"I enjoy celebrating functions with fans.. I can't be alone. Now that my kids are grown up, I would like them also to say hello to all those who made me who I am today," Shah Rukh told reporters here.
"They were feeling embarrassed, shy and were even angry but I feel they should do this," he said.  Talking about his Eid plans, he said, "There is no big celebration today.. Tomorrow we have a dinner party with family and friends."
Also, SRK is happy with the response of his film "Chennai Express". The actor is so busy that he has not checked his phone to see the messages sent by industry friends.
"We are happy with the response. People are having fun and are finding it entertaining is a great thing. We can't stop smiling. I don't think about the numbers," SRK, who was accompanied by director Rohit Shetty, said.  The film sees Deepika Padukone playing a Tamilian.
There are few dialogues in the film that are in Tamil.  "We did not feel the need to give subtitles as we want the audience to relate to my character as he is also clueless about the language. All we are trying to say is love has no language," he added.