Sunny Deol in Aap Ki Adalat: 16 years of cut-off with SRK; 10 other secrets he revealed
New Delhi: Actor Sunny Deol doesn't need any introduction. One of the most loved action heroes of Bollywood, he has acted in a plethora of movies, Gadar, Border, Ziddi, Ghayal to name a few.He is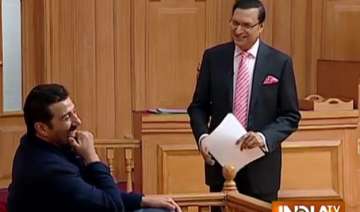 India TV Entertainment Desk
February 02, 2016 18:58 IST
New Delhi: Actor Sunny Deol doesn't need any introduction. One of the most loved action heroes of Bollywood, he has acted in a plethora of movies, Gadar, Border, Ziddi, Ghayal to name a few.
He is gearing up for his next movie, 'Ghayal Once Again' for which he has donned multiple avatars. Sunny has directed, written, produced and acted in the movie.
Sunny visited the sets of 'Aap Ki Aadalat' and got into a never-seen-before conversation with India TV's Editor-In-Chief Rajat Sharma.
During the thoroughly entertaining conversation which lasted for about an hour, Sunny revealed secrets about his career which never saw the light of the day.
Here's a list of 10 interesting facts which Sunny said:
1. Surprising as it may sound, Ghayal's director Raj Kumar Santoshi could not find any producer for the film. Sunny and Raj Kumar went to many producers but landed rejection only because they disliked the script. It was then that Sunny approached his father Dharmendra and got a green signal from him.
 
2. The 'Gadar' actor who went to London for higher studies says it was impossible for him to pursue his goals of being an actor in India. He said, "Wherever I went, people were usually sweet or extremely rude become of my father was superstar, which made it impossible to establish my own identity."
 
3. Speaking about his childhood days he revealed that he was a notorious kid. He loved riding vehicles and got injured most of the times. His troubles didn't end after an injury as his mother Prakash Kaur used to beat him for his actions.
 
4. It isn't a hidden fact Sunny Deol is a shy person. He has accepted many times that he gets uncomfortable shooting romantic scenes. He accepted that he thought if he goes to London and interacts with westerners he might change. "Alas! This didn't happen", he chuckled.
 
5. Sunny also revealed something from the sets of 'Darr' (1993) which was not known to many. During filming he was upset with Yash Chopra because a scene depicted Shah Rukh Khan hitting him with a knife. According to Sunny, if he was playing a commando, it was stupid if a boy hit him while he stood still. When Yash Ji did not agree with Sunny, he put his hands in the pocket. He was so furious over the incident that his closed fist inside the jeans tore it.
 
6. Following this incident, Shah Rukh Khan and Sunny Deol hit a rough patch. When questioned if Sunny did not speak to SRK for 16 years, he replied in a laughing tone, "Maybe he was scared because he did something wrong." He then added, "There isn't anything like this. I don't socialise much and have never ran into him. We are colleagues and will always remain so. " He pursued, "Shah Rukh is sober down and he is nice."
7. Telling more about him locking horns with Yash Raj Films, Sunny said he wasn't offered movies by them. He added, "A few days ago I met Adi (Aditya Chopra) and we laughed about the past. As they say time heals everything."
 
8. On his equation with other actors Sunny laughed off saying, "I don't have problem working with any actor. I think it is them who might have issues working with me."
 
9. A doting son to his father Dharmendra, Sunny said that his love for his father knows no boundaries. He also added that of anyone speaks ill about his father he will not spare that person. "It saddens me sometimes that Papa did not get his due. However, when I see the love he has received from people I feel content," a proud son Sunny told.
 
10. Known for staying away from parties, award functions and alcohol, Sunny Deol asserted that he doesn't need any of the aforementioned stuffs to have fun.
 
11. Spilling beans on why he decided to promote 'Ghayal Once Again' religiously when he never did the same for his previous movies, he said he learnt his lesson. "I have changed with time and I know that for a movie to fare well promotions are very necessary." He also added that they (Dharmendra and himself) learnt the importance of movie promotions from Shah Rukh.
Watch the full episode here: