Two Racy Item Songs From Chaalis Chauraasi
Mumbai, Jan 11: Two songs Badmast and Setting Zhala from  director Hriday Shetty's movie Chaalis Chauraasi have already made it to the playlist of music lovers.The item songs are  catchy.  Actress Shweta Bharadwaj sets the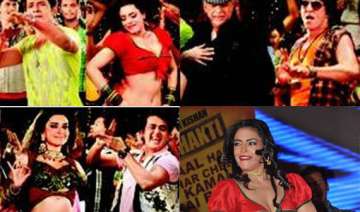 PTI
January 11, 2012 14:36 IST
Mumbai, Jan 11: Two songs Badmast and Setting Zhala from  director Hriday Shetty's movie Chaalis Chauraasi have already made it to the playlist of music lovers.

The item songs are  catchy.  Actress Shweta Bharadwaj sets the mood along with Naseeruddin Shah, Atul Kulkarni,  Kay Kay Menon and Ravi Kishan in Setting Zhala, and in the other song,  Ritu Jain and Naseeruddin shake a leg together.

Says Hriday Shetty:  "My movie is a masala entertainer.  The item songs were not incorporated,  they were always a part of the film.

"I didn't have to twist and turn the story to fit them in.

"Also,the songs are not just about the actress dancing in the movie, but equally about the characters.

"Naseeruddin, Atul,  Kay Kay and Ravi have done a fantastic job.They have moved and how!"

Setting Zhala has been sung by Sonu Nigam, Amit Kumar and Yashita, while Badmast has been sung by Daler Mehndi and Mamta Sharma.

"The music is not excessively done keeping the track of the movie in mind,and we thoroughly enjoyed working on this movie along with Hriday", says Lalit Pandit, the music director.

Chaalis Chauraasi is releasing on January 13.