Varun, Shraddha, Remo, Lauren share their ABCD 2 dance journey (watch interview)
New Delhi: Ever since its sequel's conceptualization, all eyes are on ABCD director Remo D' Souza and the new additions to the cast Varun Dhawan and Shraddha Kapoor who are all set to take the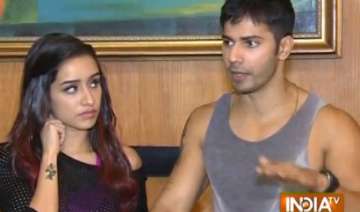 India TV Entertainment Desk
January 26, 2015 14:31 IST
New Delhi: Ever since its sequel's conceptualization, all eyes are on ABCD director Remo D' Souza and the new additions to the cast Varun Dhawan and Shraddha Kapoor who are all set to take the franchisee global with their exceptional dancing skills.
At a recently held press conference in Mumbai Varun and Shraddha along with the director Remo got interactive sharing their experience of ABCD 2 journey they had just completed.
Remo D'Souza was all excited to bring back his dream team from the first installment into the latest one which included Salman Yusuf Khan, Lauren Gottlieb, Prabu Deva and Dharmesh Yelande.
Praising the new additions- Varun Dhawan and Shraddha Kapoor- the director said, "They both are hard working and their dedication is superb".
While the first part was fictional, the second installment, the director says, "required lesser efforts since the story was already prepared and is based on the real life of struggling choreographers Aryan Suresh,Vinnie and Vernon from Nallasopara (Mumbai suburb), who went on to win the World Hip-Hop dance championship.
Shraddha and Varun who will play Vinnie and Suresh also got interactive post their breath taking dance performance which they say was the part of the World Hip-Hop dance championship.
Their camaraderie was quite visible at the event as the two are childhood friends however; this is their first project together.
Varun even went on to call Shraddha a 'female Akshay Kumar' for performing daring stunts in the flick and despite getting bruises she showed no pain. Recalling a sequence Varun said, "A dance sequence required her to fly 15 feet above in air and then come down suddenly and Shraddha did it with complete dedication sans any fear.
Shraddha who for the first time will show her dancing forte said, "It's like a debut as she is for the first time going to show her dancing skill unlike her earlier flicks", while praising Jr Dhawan, she was quoted as saying, "Varun has taken his exceptional dancing act to altogether a new level in ABCD 2.
Yet the duo fears what if they let down the director saying, "We don't want to disappoint Remo because he has taken a big risk by roping two of us non-dancers. Chukles Shraddha over this remark by Varun because she knows how well Varun is at dancing.
Besides this Varun, who will be next seen in 'Badlapur', has an engrossing work schedule as he says, "Band baji hai work schedule ko leke. Badlapur promotions, awards function, Filmfare is also ahead."
Lastly, Lauren Gottlieb who also has teamed up with the franchisee also praised Shraddha saying, "She is very spicy, she is someone I want to be like, the way she dresses, the way she gets her hair done, the way she acts and talks, she is fun".
Lauren who is yet struggling to get her Hindi accent right said, "Hindi is going good but for last three months she was in America and then coming back to India was a bit tough to get back into this language.
Well, we can't wait for its release which is scheduled for 19th June this year.