Veena Malik's Swayamvar Off
Mumbai, April 15: Pakistani actor Veena Meena Ka Swayamvar, has died a natural death, after Imagine TV decided to shut shop. The reality show,Veena Ka Swayamwar,will not see the light of the day now  as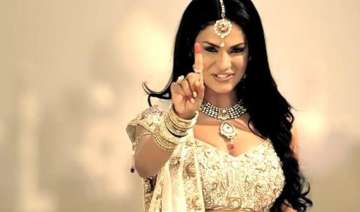 PTI
April 15, 2012 15:01 IST
Mumbai, April 15
: Pakistani actor Veena Meena Ka Swayamvar, has died a natural death, after Imagine TV decided to shut shop.
The reality show,Veena Ka Swayamwar,will not see the light of the day now  as the Turner Group announced its decision to cease the channel's business operations.
Imagine TV has not performed and grown as per expectations.While some programmes delivered satisfactory ratings, overall the channel was unable to achieve the ratings consistency needed to sustain the business and support continued investment.
As a result, Turner made the decision to cease operations of the channel, said their media statement.
 Veena's swayamwar ,for which she was rumoured to have been paid a few crores, was one of many big shows to start on the channel in the next few months.
Veena is currently in the UK to promote the show, said one of her associates.