Bobby Jasoos 'Jashn' song review: Vidya Balan fills your wit with bliss (watch video)
Vidya Balan is once again gearing up to prove her acting metal in Bollywood with the upcoming 'Bobby Jasoos.' The film that stars Vidya as a wannabe spy is out with its first song titled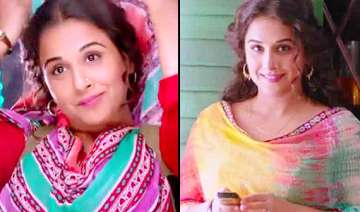 India TV Entertainment Desk
June 07, 2014 6:41 IST
Vidya Balan is once again gearing up to prove her acting metal in Bollywood with the upcoming 'Bobby Jasoos.' The film that stars Vidya as a wannabe spy is out with its first song titled 'Jashn.'
As the name suggests, the song shows the actress celebrating with utter fun and frolic, grooving madly and spilling the colours of life all around. 'Jashn' is more like an attempt to fill your wit with all kinds of bliss as it asks you to get delved in the mood of happiness and dance.
Sung by Shreya Ghoshal, the song binds you with your moments of contentment and Vidya adds fervour to it.
The lyrics, 'dil ye gungunaye, avain muskuraye, jashn hai ye mere dil ka...'penned by Swanand Kirkire, paves the way to inhale the chunks of exuberance and rest is completed by Vidya's ecstatic dance moves.