ZimaFest concludes with a bang in Goa
Candolim: After a series of electrifying performances, ZimaFest - a live musical festival here, came to an end with adrenaline pumping acts by Indian artistes The F16's, Madboy/Mink and DJ Nishan.The event, which saw an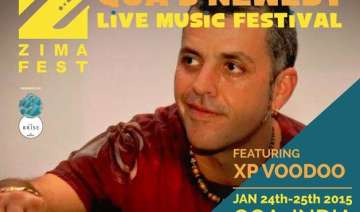 IANS
January 26, 2015 20:17 IST
Candolim: After a series of electrifying performances, ZimaFest - a live musical festival here, came to an end with adrenaline pumping acts by Indian artistes The F16's, Madboy/Mink and DJ Nishan.
The event, which saw an amalgamation of Indian and Russian DJs and bands, was aimed at strengthening the bond between the two nations with the help of music.
"ZimaFest was organised to promote music that spans different genres, to the wide variety of audience, which included Indians and foreigners, especially Russians. The fest was organised at a very unsual time which was different from the busy December schedule," Vinod Ganjoor, chairman of the festival, told IANS here.
"Since the last four to five years, Russians have become a very integral part of the tourist landscape in Goa. As they were looking for avenues of entertainment, ZimaFest aimed to be a place for their hangout (requirement)," he added.
ZimaFest, which concluded Sunday night, got a positive response from the public and the organisers admit to continue it from next year onwards on a regular basis.
"The response that we got was just like any other inaugral fest. ZimaFest was sucessfully driven by the collaboration of music across nations and we will be heading back from next year onwards to deliver even bigger package of entertainment than this," Ganjoor added.
Bands and DJs like Dolphin (Russia), Parikrama (India), Farafi (India), Karsh Kale (US/India) and Christ Burstein (Argentina) performed at the two-day gala, where the audience also grooved to international tracks by artistes like Night Snipers, Z-Cat and XP Voodoo from Russia, Avalon from Britain and Mara from Switzerland at La Brise, Candolim here
The boyband The F16's, which comprises of Joshua Fernandez, Viraj Yesudas, Sashank Manohar, Vikram Yesudas and Harshan Radakrishnan belted out some of their hit tracks, which made the audience jump, cheer and enjoy via some freestyle dancing.
Internationally known DJs XP Voodoo and Avalon also set the party mood with their music, while electronica bands Mara, Z-Cat and Janux made the music lovers put on their dancing shoes too.