Comedian Bill Cosby accused of 'lifetime of sexual assault' on women
The District Attorney accused actor and comedian Bill Cosby on Wednesday of "a lifetime of sexual assault" on women in a pre-trial hearing. Kevin Steele, the District Attorney for Pennsylvania's Montgomery County, where this week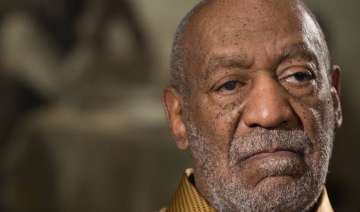 India TV Entertainment Desk
Washington
December 15, 2016 12:23 IST
The District Attorney accused actor and comedian Bill Cosby on Wednesday of "a lifetime of sexual assault" on women in a pre-trial hearing.
Kevin Steele, the District Attorney for Pennsylvania's Montgomery County, where this week another round of pre-trial hearings is underway, hopes to convince the judge that the 13 women who have accused Cosby of sexual abuse must testify at the actor's trial, which is slated to begin in June, EFE news reported.
Steel said Cosby used his fame to lure women, drug them and raped them when they were unconscious. The district attorney argued that Cosby engaged in a pattern of sexual assault for decades.
The first trial for the 79-year-old actor is linked to the case of Andrea Constand, who accused him of abusing her in 2004.
Legal experts said that Cosby faces three charges of aggravated sexual assault and could be served with 10 years prison term. The District Attorney's office is expected to call other alleged victims to testify against the comedian. Few of these victims are said to file complaints in other courts.
Although Pennsylvania normally does not allow accusers to testify in unrelated cases, there are exceptions when such testimony would help to establish a "pattern" on the part of the accused.
Cosby's lawyers want to prevent those 13 women from participating in the trial, fearing that their testimony could negatively influence the jury.
Complaints about sexual abuse against Cosby go back to the 1960s and the statute of limitations on those older cases has lapsed, and so prosecutors believe that Constand's case could be crucial in proving the sexual attacks dozens of women say they suffered at the actor's hands during those years, EFE news added.
In 2005, when Constand sued Cosby, the actor reached an agreement with Pennsylvania judicial authorities to pay the woman a civil settlement, thus avoiding a criminal trial.
However, the release of the victim's testimony in those proceedings led to the reopening of the case, the decision by the District Attorney's office to file charges against Cosby and bringing the actor to trial starting last May.
Cosby was the first African American actor to have his own television show in the 1960s and he was a TV comedy icon for decades.
(With IANS Inputs)