Irish comedian Sean Hughes passes away at the age of 51
Sean Hughes was reportedly suffering from liver cirrhosis.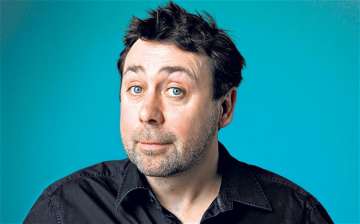 Written by: India TV Entertainment Desk
New Delhi
October 16, 2017 17:37 IST
Sean Hughes, an Irish stand-up comedian and BBC quiz show panelist passed away at the age of 51.The comedian was reportedly undergoing treatment for liver cirrhosis.
His last tweet dated October 8 reads that he was in hospital. Hughes won the prestigious Perrier comedy award in 1990 for A One Night Stand With Sean Hughes. The comedian was born in London on November 10, 1965. He spent his early days in Firhouse, Dublin. His appearance on Never Mind The Buzzcocks, along with sitcom Sean's Show made him a household name. 
In hospital

— Sean Hughes (@mr_seanhughes) October 8, 2017
Comedians paid tribute to Hughes on micro-blogging site Twitter:
Jack Dee paid his tribute on Twitter saying, ''Very sad to hear about Sean Hughes. Started on the circuit with him back in the day. RIP.''
Very sad to hear about Sean Hughes. Started on the circuit with him back in the day. RIP.

— Jack Dee (@TheRealJackDee) October 16, 2017
Jason Manford wrote, ''Very sad to hear about Sean Hughes. A brilliant comic and a lovely bloke. RIP.''
Very sad to hear about Sean Hughes. A brilliant comic and a lovely bloke. RIP.

— Jason Manford (@JasonManford) October 16, 2017
Richard K Herring wrote, ''Sean Hughes. What a punch in the soul that is.''
Sean Hughes. What a punch in the soul that is.

— Richard K Herring (@Herring1967) October 16, 2017