Jennifer Aniston is pregnant, claims Paris Hilton's mother
Kathy Hilton who is the mother to the famous Socialite and Former Reality TV Star Paris Hilton made a shocking tweet about Jennifer Aniston. She claimed that Jennifer Aniston is pregnant and is expecting a
India TV Entertainment Desk
Los Angeles
March 01, 2017 13:44 IST
Kathy Hilton who is the mother to the famous Socialite and Former Reality TV Star Paris Hilton made a shocking tweet about Jennifer Aniston. She claimed that Jennifer Aniston is pregnant and is expecting a baby girl!
This comment was made on her Twitter account which has more than 100,000 followers, after Jennifer's appearance in a Versace gown at Oscars.
Kathy deleted the post which said, "Jennifer Aniston looks so beautiful tonight. I am telling you she is having a baby girl 100 per cent!"

Kathy Hitlon tweeted Jennifer Aniston is pregnant
To which Jennifer Aniston told Marie Claire, "My marital status has been shamed; my divorce status was shamed; my lack of a mate had been shamed; my nipples have been shamed," she says. "It's like, 'Why are we only looking at women through this particular lens of picking us apart? Why are we listening to it." Jennifer has often disregarded the tabloids' and people's obsession with her getting pregnant.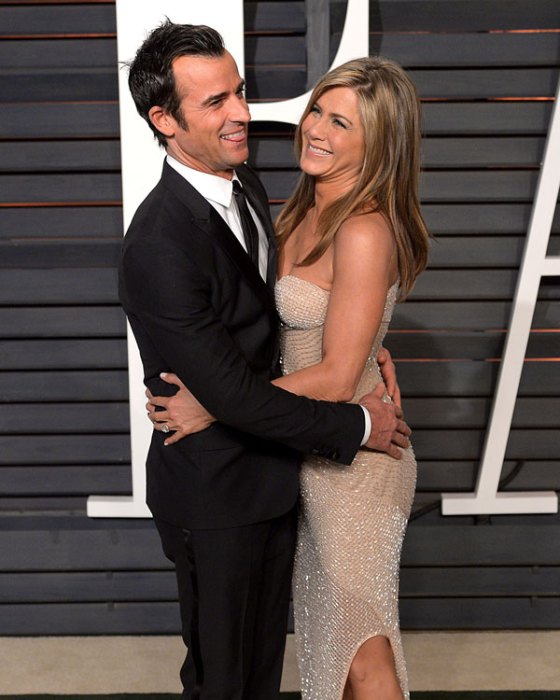 Jennifer Aniston and Justin Theroux in Oscars 2017 after party
The tweet caused some confusion, with someone asking if she meant actress Natalie Portman, who is expecting her second child with husband Benjamin Millepied.
But Kathy replied "no".
However, she later removed the post from her timeline, according to mirror.co.uk.
(With IANS Input)