Oscar winner Casey Affleck speaks out about sexual harassment allegations
Casey Affleck, who received much criticism for winning the Best Actor awards at the 89th Annual Academy Awards, finally spoke out about the sexual harassment allegations being leveled on him. During an interview with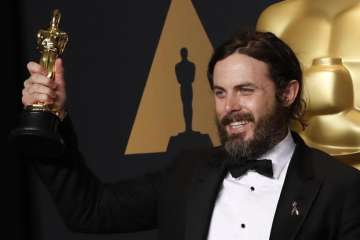 India TV Entertainment Desk
New Delhi
March 02, 2017 16:19 IST
Casey Affleck, who received much criticism for winning the Best Actor awards at the 89th Annual Academy Awards, finally spoke out about the sexual harassment allegations being leveled on him.  
During an interview with the Boston globe, Casey said that people are hardly aware about the complete fact and they don't know what really happened.
As per the reports of the Hollywood Reporter, it is stated that both the sides in the case are not allowed to give any comments. 
"I believe that any kind of mistreatment of anyone for any reason is unacceptable and abhorrent, and everyone deserves to be treated with respect in the workplace and anywhere else," he said.
In a statement further given by Casey, he mentioned that, "There's really nothing I can do about it. Other than live my life the way I know I live it and to speak to what my own values are and how I try to live by them all the time," 
Casey calling all the allegations as baseless clearly denied the report and settled the lawsuit out of court.
Reportedly, in 2010 two of Affleck's women employee, who were working on his experimental project, 'I'm Still Here', filed a sexual harassment case against the Oscar winning actor. However, the first women claimed that Casey crawled into her bed without seeking her permission while she was asleep. The other woman claimed that Casey pressurized her to stay in his hotel room and even ''violently grabbed [her] arm in an effort to intimidate her into staying." 
It is worthy to mention here that Casey Affleck won the Best Actor award in a Leading Role, for 'Manchester by the Sea,' at 2017 Academy Awards.