Adam Levine 'super terrified' after female fan's attack during live performance
Los Angeles: Maroon 5 frontman Adam Levine was startled when one of his fan jumped on the stage in the middle of his performance. He says the incident was "super terrifying" and "mildly creepy".The singer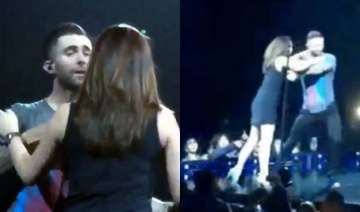 IANS
09 Apr 2015, 11:37:55 AM IST
Los Angeles: Maroon 5 frontman Adam Levine was startled when one of his fan jumped on the stage in the middle of his performance. He says the incident was "super terrifying" and "mildly creepy".
The singer was performing with his band in Anaheim, California on Monday when a female fan jumped onto the stage and hugged him, reports aceshowbiz.com.
"It's just weird to be, like, in the moment, ya know? And you're singing, and your eyes are closed, and you have this beautiful moment. And then the next thing you know someone's f**king in your face," Levine said.
"It's super terrifying. It's all good. I love you, sweetheart. I'm glad you're a fan of the band. It's only mildly creepy that that just happened," Levine added.
The coach of reality TV singing competition "The Voice" also said that the incident left him with a cut on his ear.
"She, like, cut my ear with her fingernail," he said.