August Osage County movie review - Rich brew of drama
Film: "August Osage County" Cast: Meryl Streep, Julia Roberts, Ewan McGregor, Chris Cooper, Sam Shepard, Benedict Cumberbatch, Juliette Lewis, Abigail Breslin, Margo Martindale, Chris Cooper, Dermot Mulroney and Julianne Nicholson; Director: John Wells; Rating: ***1/2Shame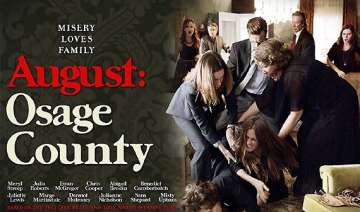 PTI
March 08, 2014 13:05 IST
Film:
"August Osage County"

Cast:
Meryl Streep, Julia Roberts, Ewan McGregor, Chris Cooper, Sam Shepard, Benedict Cumberbatch, Juliette Lewis, Abigail Breslin, Margo Martindale, Chris Cooper, Dermot Mulroney and Julianne Nicholson;
Director:
John Wells;
Rating: ***1/2
Shame and scandals within the family have always been excellent ingredients for a robust film, and there is plenty of it here in "August Osage County".
Based on a play by Tracy Letts, this is a character-driven film where the plot revolves around the dysfunctional family of the Westons who live in August Osage County.
With his three daughters Barbara (Julia Roberts), Ivy (Julianne Nicholson) and Karen (Juliette Lewis) out on their own, author and poet Beverly Weston (Sam Shepard) finds himself seeking comfort in the bottle while trying to escape from his cantankerous "cancer-stricken, pill-popping" wife, Violet (Meryl Streep). They co-exist while leading their own lives, till one fine day Beverly, without any warning or announcement moves out.