Bryan Singer, Michelle Clunie welcome son
Los Angeles: The "X-Men: Days of Future Past" director Bryan Singer and his best friend Michelle Clunie have welcomed their first child together -- a son.The 49-year-old announced the news on Twitter Monday night, reports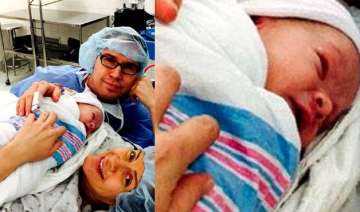 IANS
January 07, 2015 7:15 IST
Los Angeles: The "X-Men: Days of Future Past" director Bryan Singer and his best friend Michelle Clunie have welcomed their first child together -- a son.
The 49-year-old announced the news on Twitter Monday night, reports aceshowbiz.com.
He posted a photograph of the proud parents holding their newborn son with the caption: "Michelle Clunie and I would like to welcome our beautiful son Dashiell Julius William Clunie~Singer into the world."
Bryan will next direct "X-Men: Apocalypse", which is expected to release in the US May 27, next year.
The superhero film will have its original cast members including James McAvoy, Michael Fassbender, Hugh Jackman, Jennifer Lawrence, Nicholas Hoult and Evan Peters back in their respective roles.