Chris Brown calls fans 'ungrateful' for complaining about tour delay
Los Angeles: Singer Chris Brown, who disappointed many fans when he announced that he was forced to push back the start of his "Between the Sheets" tour, appeared to have made them feel more disappointed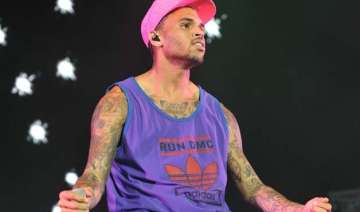 IANS
January 28, 2015 15:51 IST
Los Angeles: Singer Chris Brown, who disappointed many fans when he announced that he was forced to push back the start of his "Between the Sheets" tour, appeared to have made them feel more disappointed when he scolded them for complaining.
As it was reported earlier, Brown told his fans via Instagram post that he had to reschedule the first few dates on the tour to complete his court-ordered community service.
"Out of 1,000 hours I only have 100 left. I will work my a** off to complete it and I will be on that stage," he wrote.
Fans then took to social media to express their frustration over the delay. One Twitter user named @jaefromvine questioned why it took him so long to complete all 1000 hours.
"Dear Chris Brown, you were sentenced (to) 1,000 hours of community service on 8/16/13. What were you doing between then & now? I need answers," the fan wrote.
In a different post, the user argued that Brown had the time to make the "Autumn Leaves" music video but didn't have time to complete the 100 hours, reports aceshowbiz.com.
Another fan then shared one of @jaefromvine's posts to Instagram and Brown responded in the comment section, saying: "Making music, jail and trying to please you ungrateful b***ha** n***as."
"Between the Sheets" tour, which Brown will co-headline with Trey Songz, was supposed to start Wednesday, in Hampton, Virginia.
However, no new dates have been announced yet.